Wall reccessed niches are recessed into your shower wall for designer elegance with everyday function. They offer all the convenience of a shower rack without the clutter!
Material: Use high quality 304 stainless steel, handmade brushed process, you can also choose PVD nano and chrrome.The appearance varies with the surface treatment.
Performance Scene: Stainless steel niches are very durable, inexpensive and easy to install so it is commonly used in bathrooms, kitchens, living rooms, dining rooms, bedrooms and study rooms.
Specifications: One inner, free to install and splice,you can choose one grid to splice, or you can choose multiple grids according to your needs.
Installation method: It can be directly embedded in the wall.You can install on tile add silicone Adhesive Sealant., or fixed with screws.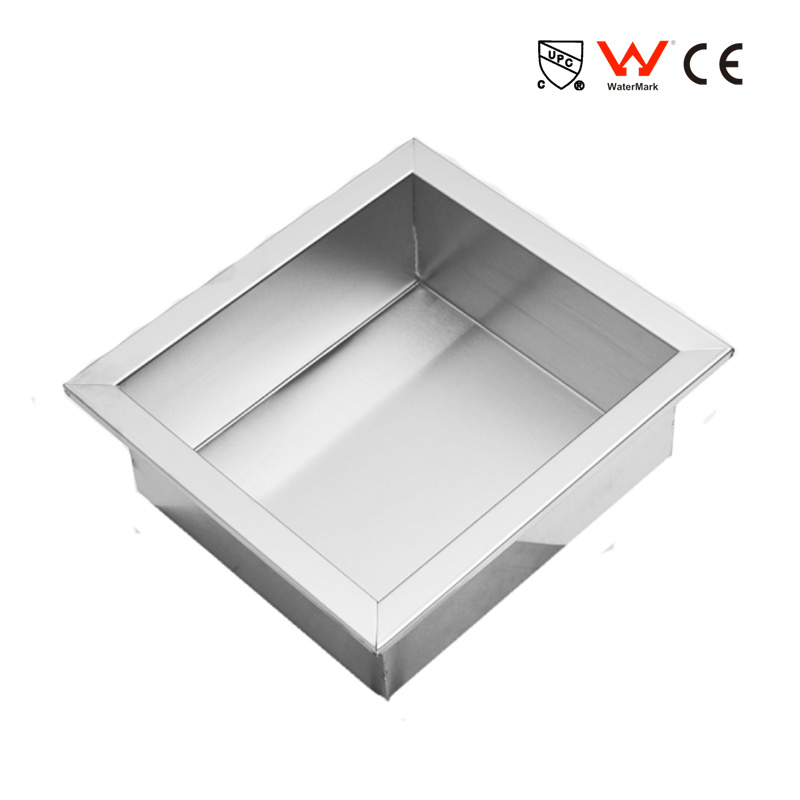 Hot Sale Stainless Steel R0 Single Combination Shower Niche Shelf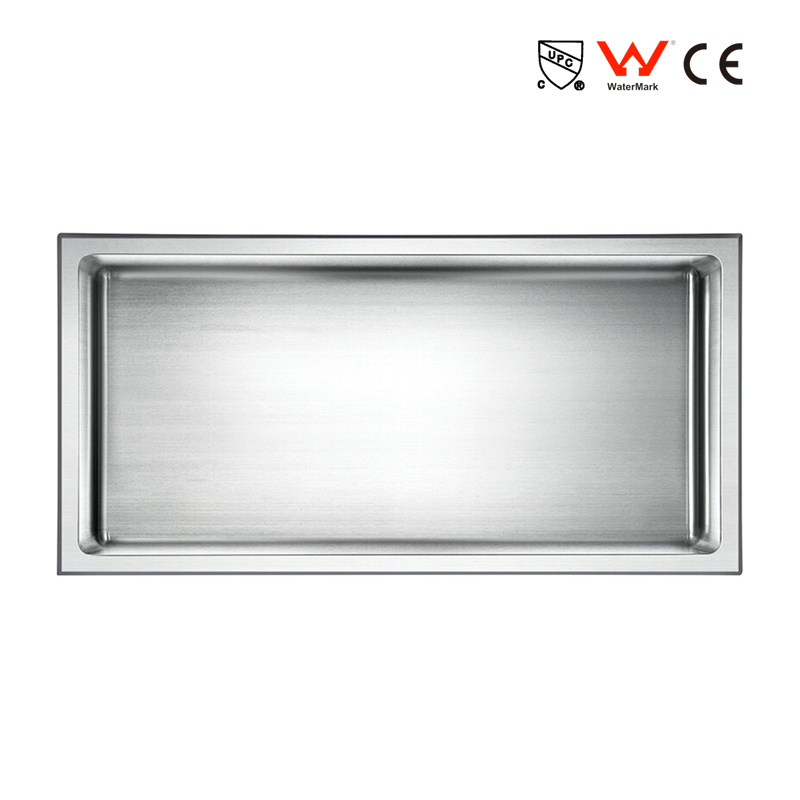 High Quality Brushed Stainless Steel Niche for Bath or Laudry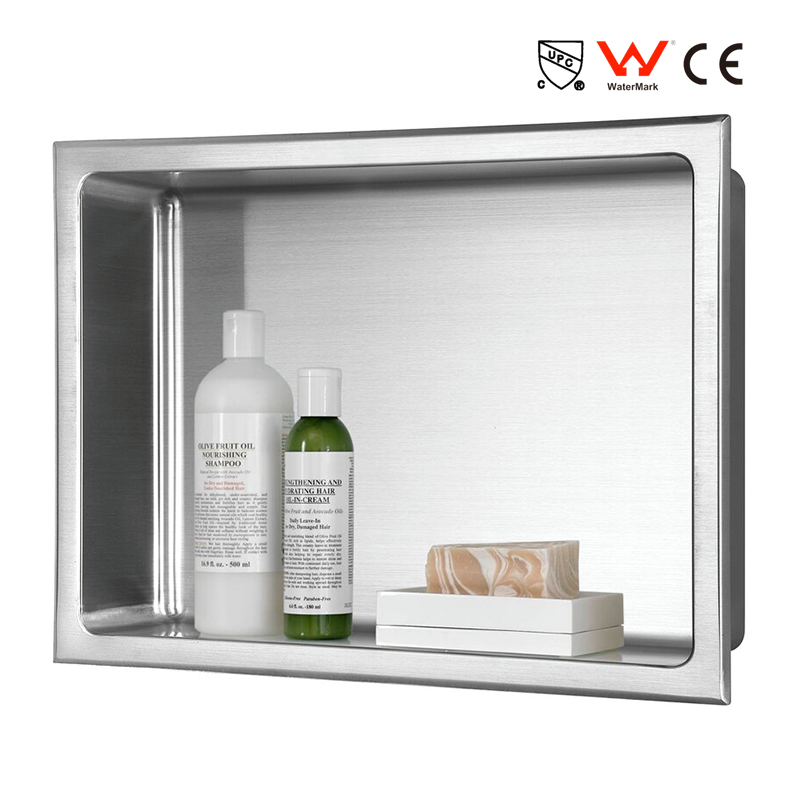 Popular Handmade one Recessed Stainless Steel Wall Niche
Different surface finish and colors for your reference, other surface customizable is available.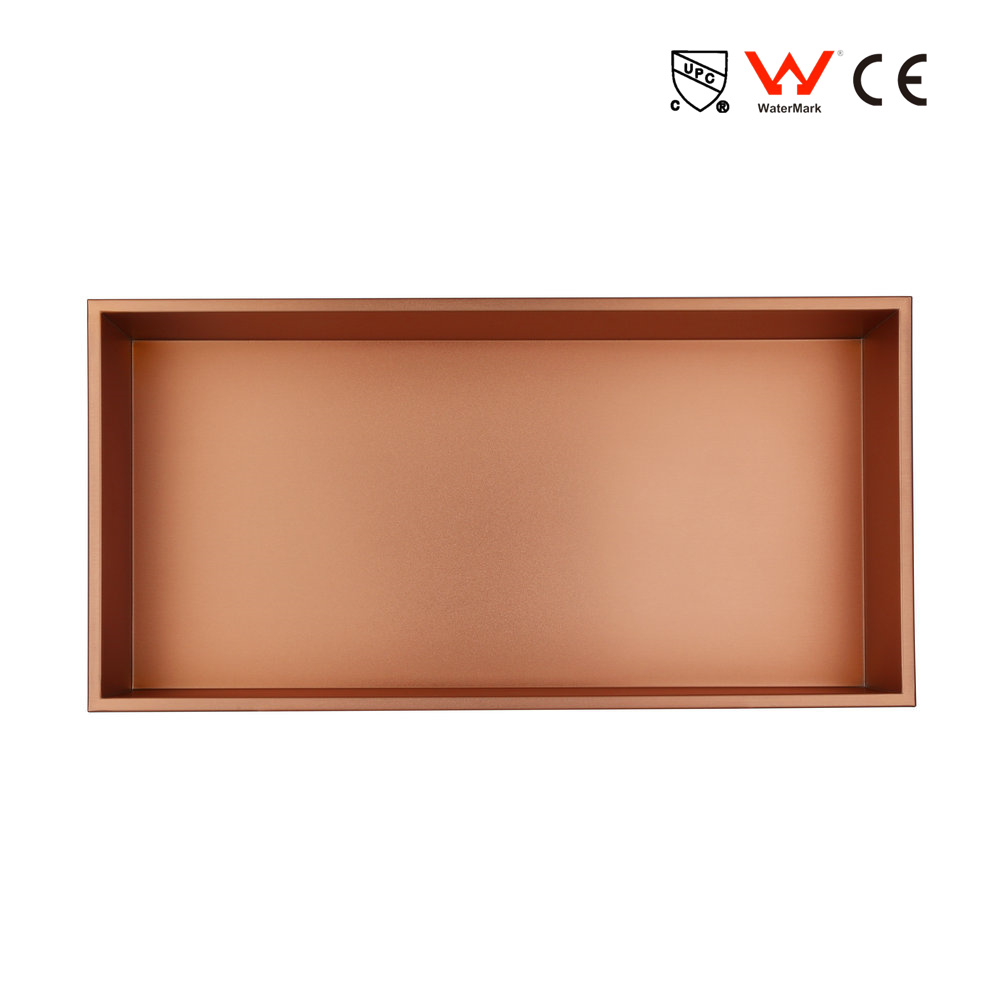 Rose Gold Large Stainless Steel Shower Niche Shelf for Household or Hotel 
Luxurious Design Gold Matte Stainless Steel Inner Shelf Wall Niche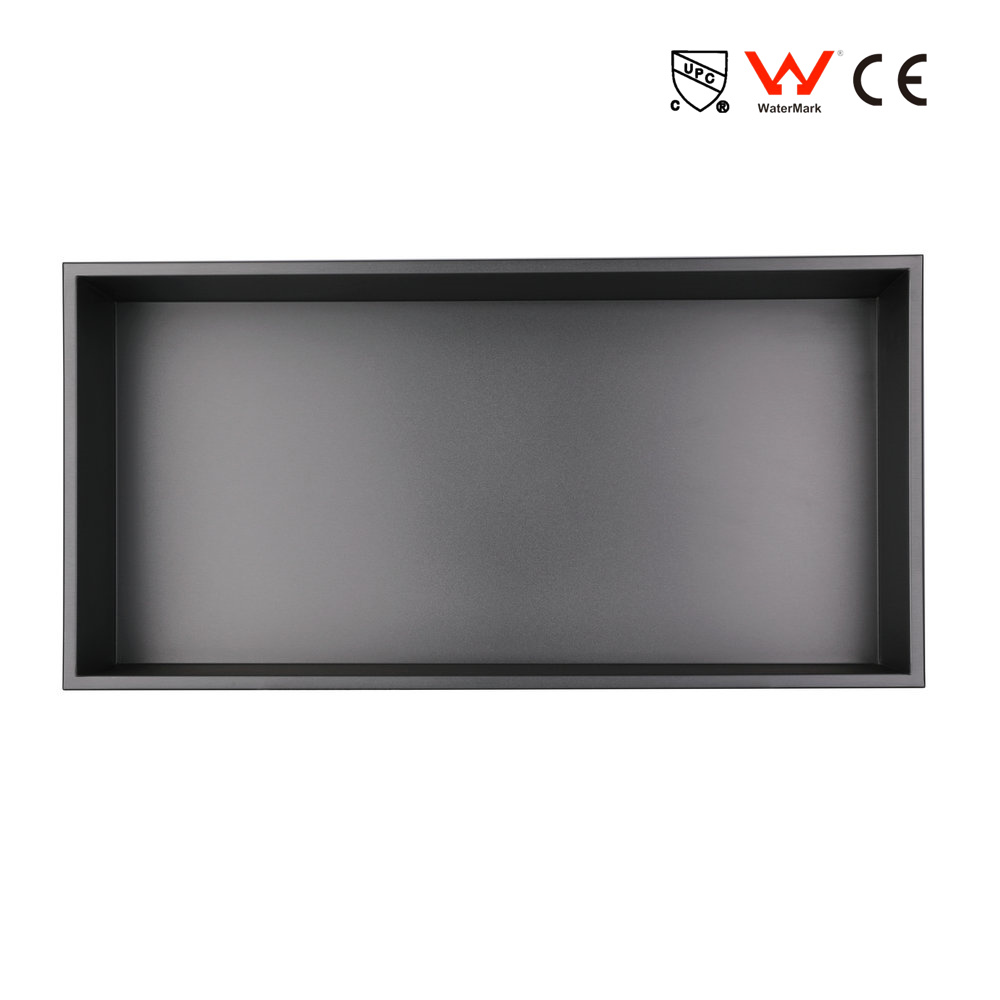 Handmade Black Matte Stainless Steel Recessed Installation Single Wall Niche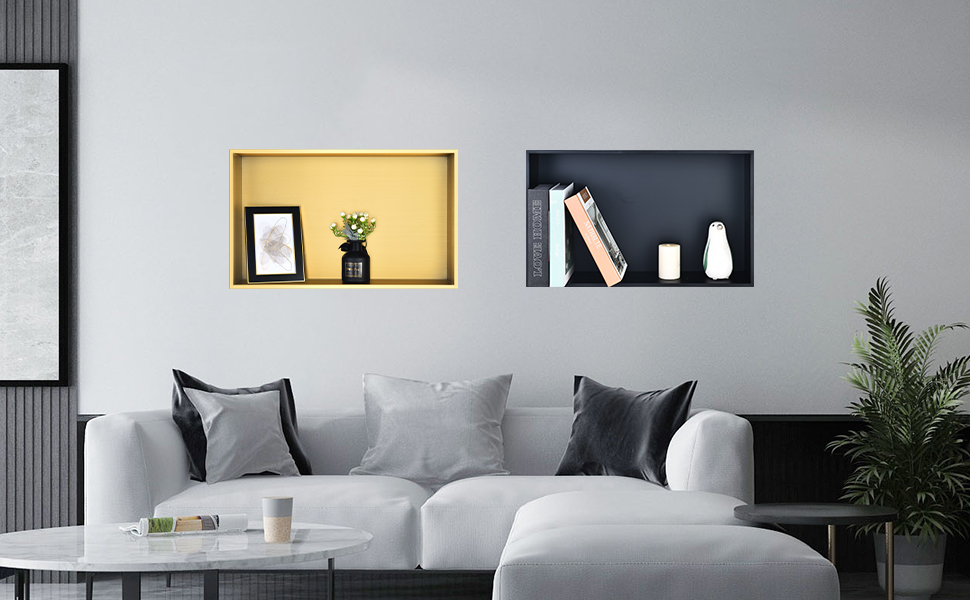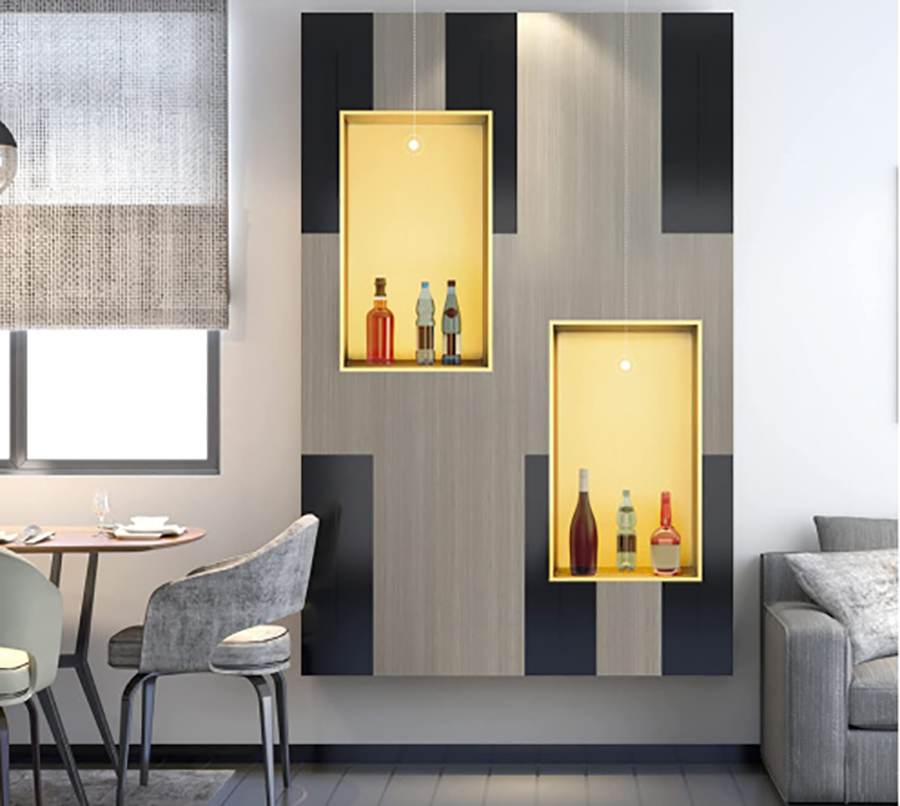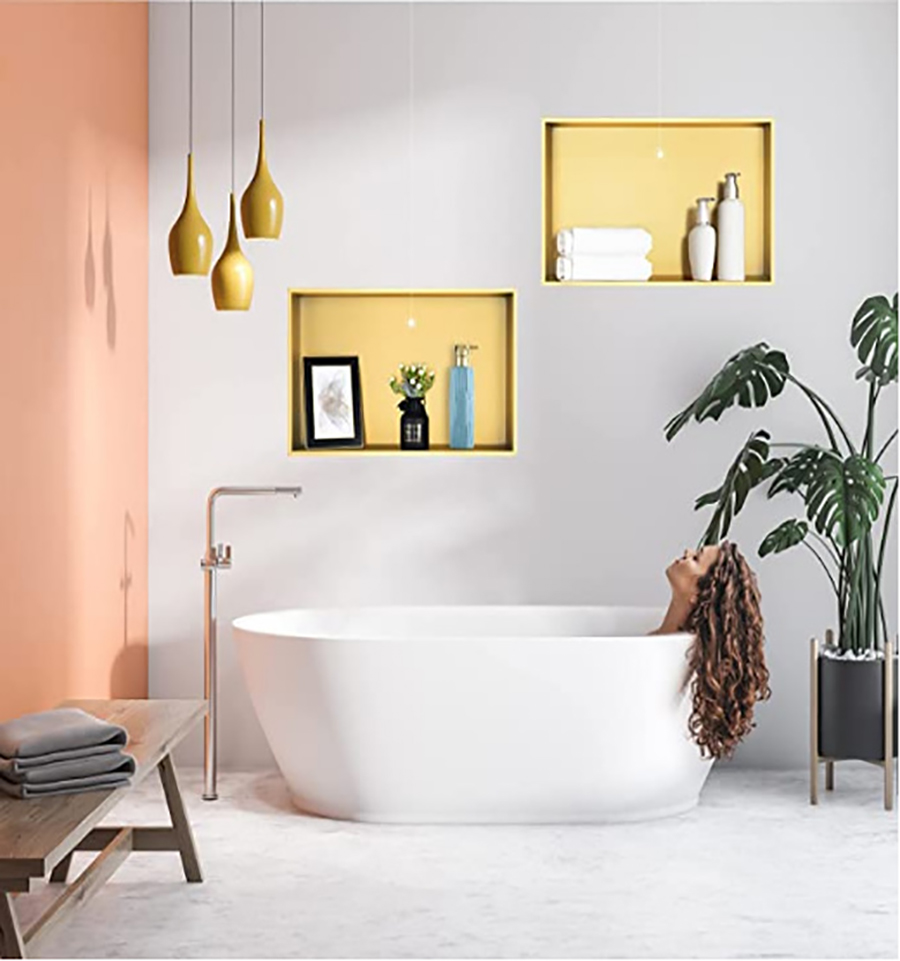 Avaliable size below, Sink size can be customized according to the actual needs and preferences of customers
Photo

Model Number

Overall Dimension( mm)




L×W×H

Bowl Size( mm)

Type

 

NICHE-1212-1

12×12×4 inches

10×10×4 inches

Single

NICHE-1224-1

12×24×4.7 inches

10×22×4.7 inches

Single

NICHE-1412-1

14×12×4 inches

12×10×4 inches

Single

NICHE-1612-1

16×12×4 inches

14×10×4 inches

Single

NICHE-1913-1

19.25×13.25×4 inches

17.75×11.75×4 inches

Single

NICHE-2513-1

25.25×13.25×4 inches

24×11.75×4 inches

Single

NICHE-4812-1

48×12×4 inches

46.5×10.5×4 inches

Single

NICHE-616-1

6×16×4 inches

5×15×4 inches

Single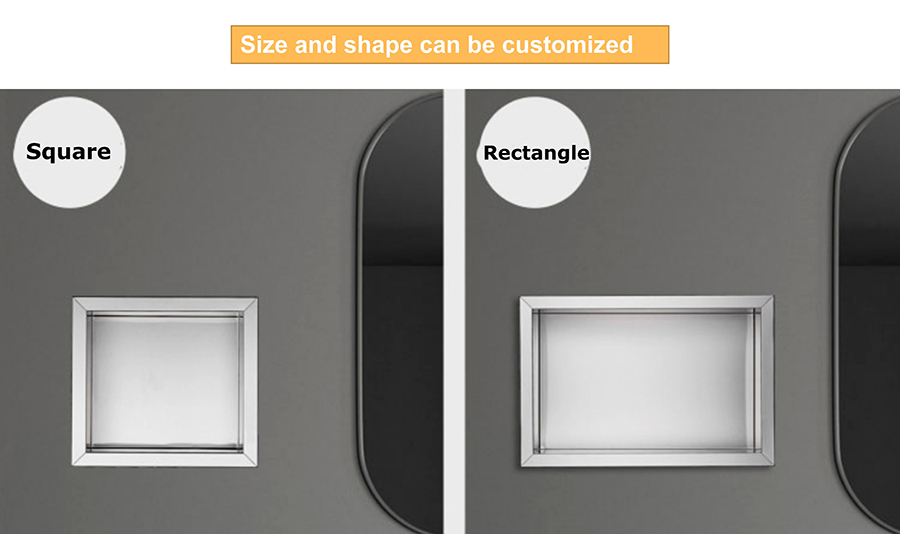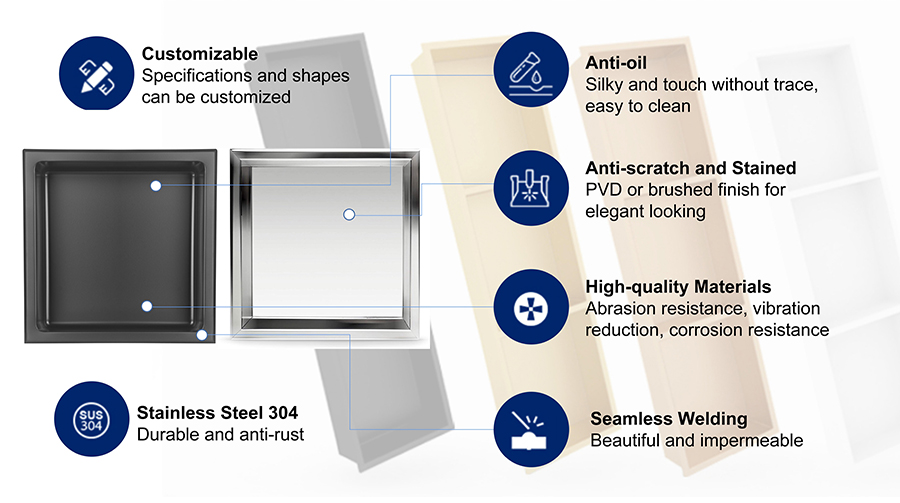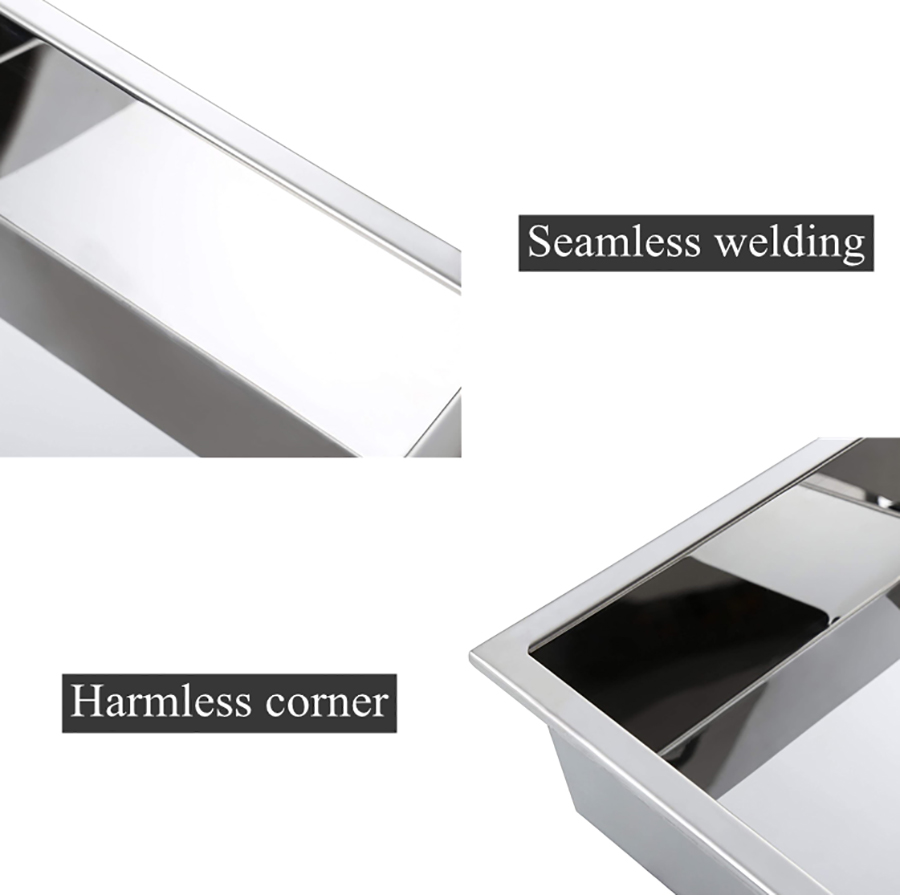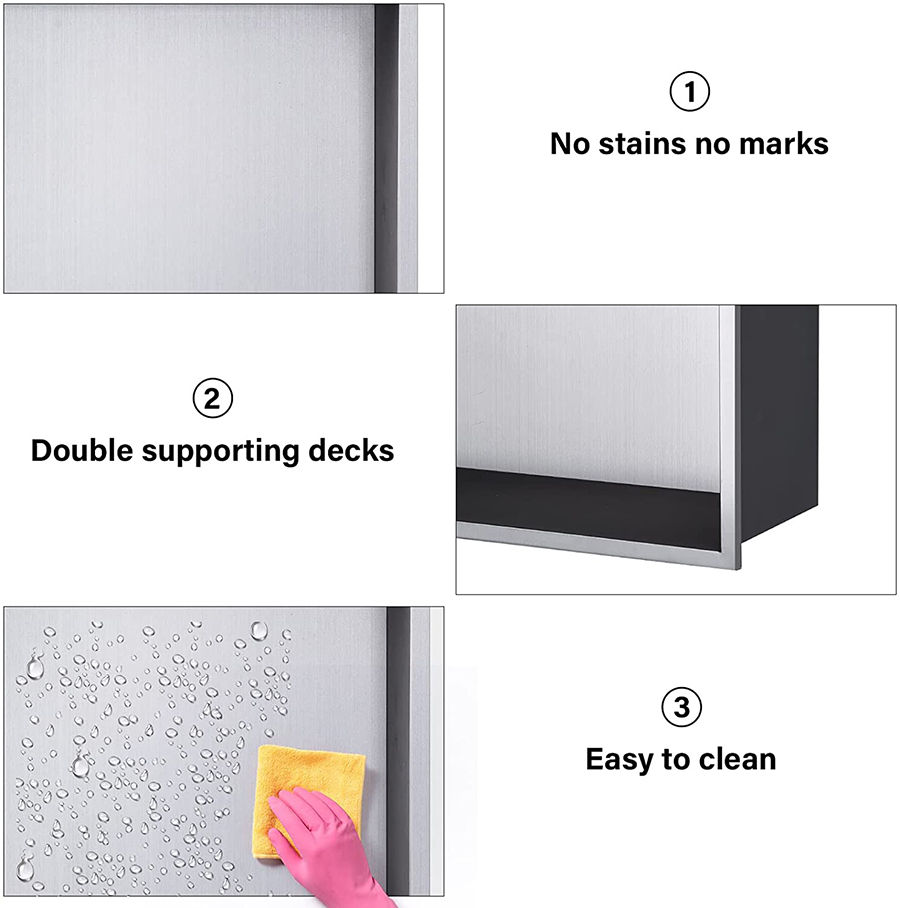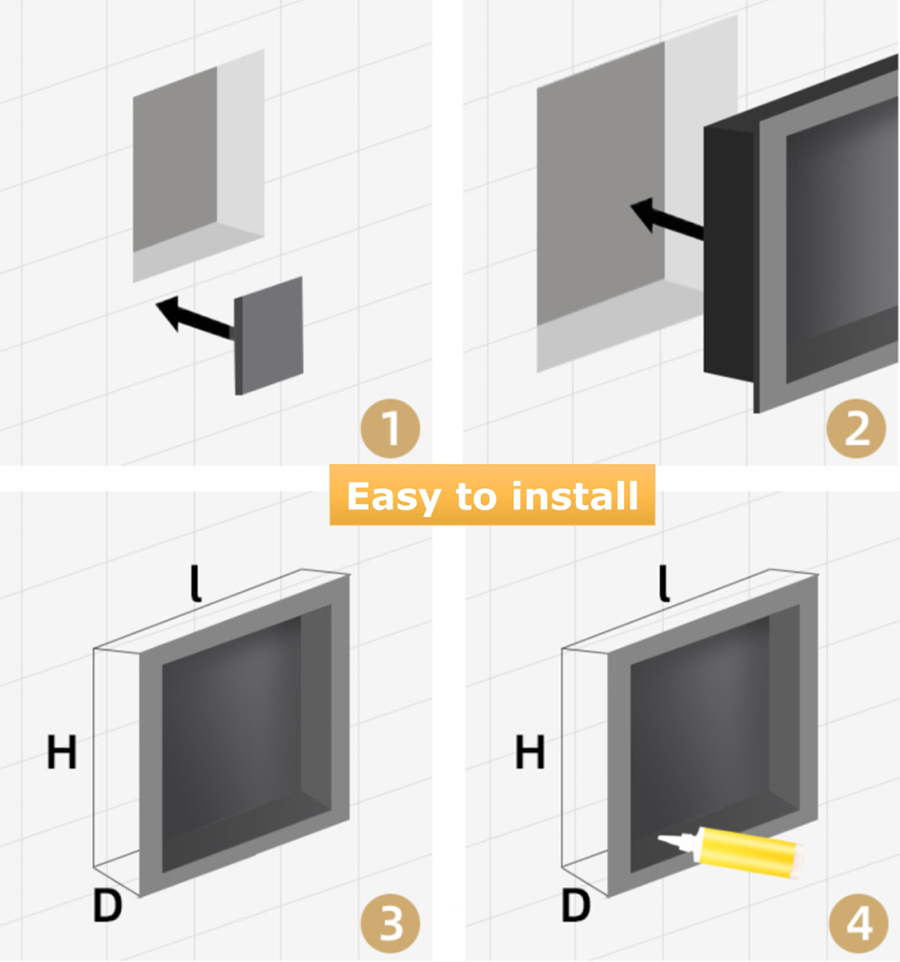 Radius Conner:

Internal 0 Radius (R0), Internal 10  Radius (R10), Internal 15  Radius (R15), Outside Radius can be customized made

Material:

Premium quality Stainless steel 18/10 304, Super quality 316.

Thickness:

1.0 , 1.2 , 1.5 , or Gauge 16, Gauge 18, Gauge 20 or 3  flange with 1  bowl, or customized made

Finish:

Brushed Satin , chrome, polish or PVD nano

Installation Type:

Wall recessed

Installation kit:

Wall glue, Screw set

Shape:

Rectangular, Square.

Certificate

cUPC, CE, WaterMark

Applicational use:

Domestic household,Co ercial hotel or bar,Medical hospital,Apartment Building

Packaging:

1.Strong Protective carton and cardboard insert,Individually boxed.

2. Saving Cost: Stacked pack into pallet

3. Combo 3-5pcs into the individual carton

4. Customized packing as per client's request

Production Lead time:

30 to 45 days upon receipt of deposit

Trade Terms:

FOB,EXW

Loading Port:

ShenZhen,GuangZhou,China

Payment Terms:

T/T, L/C, Paypal,Western Union, MoneyGram

Production Capacity:

30,000 pcs per month.

Cutout Template:

Included.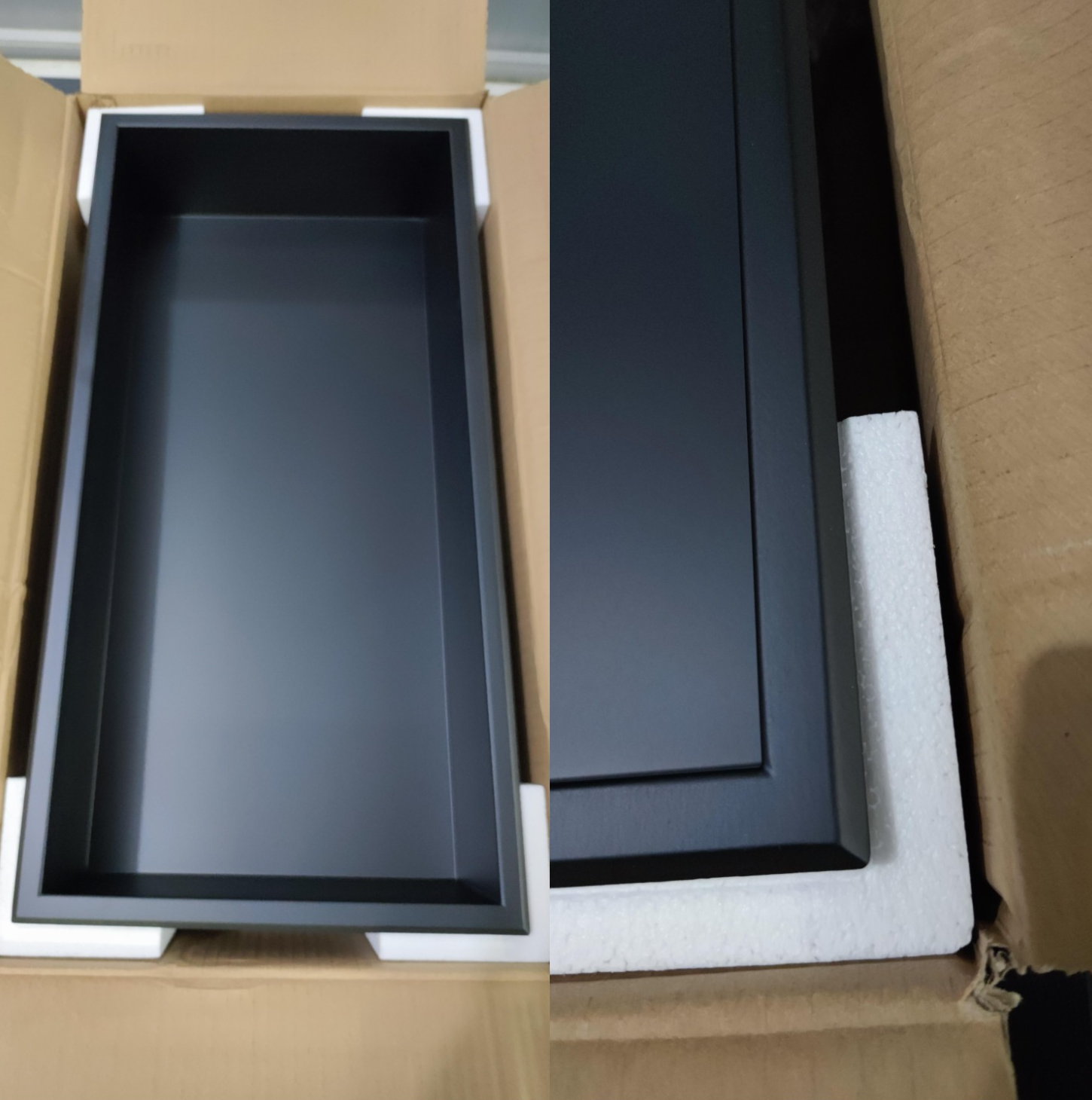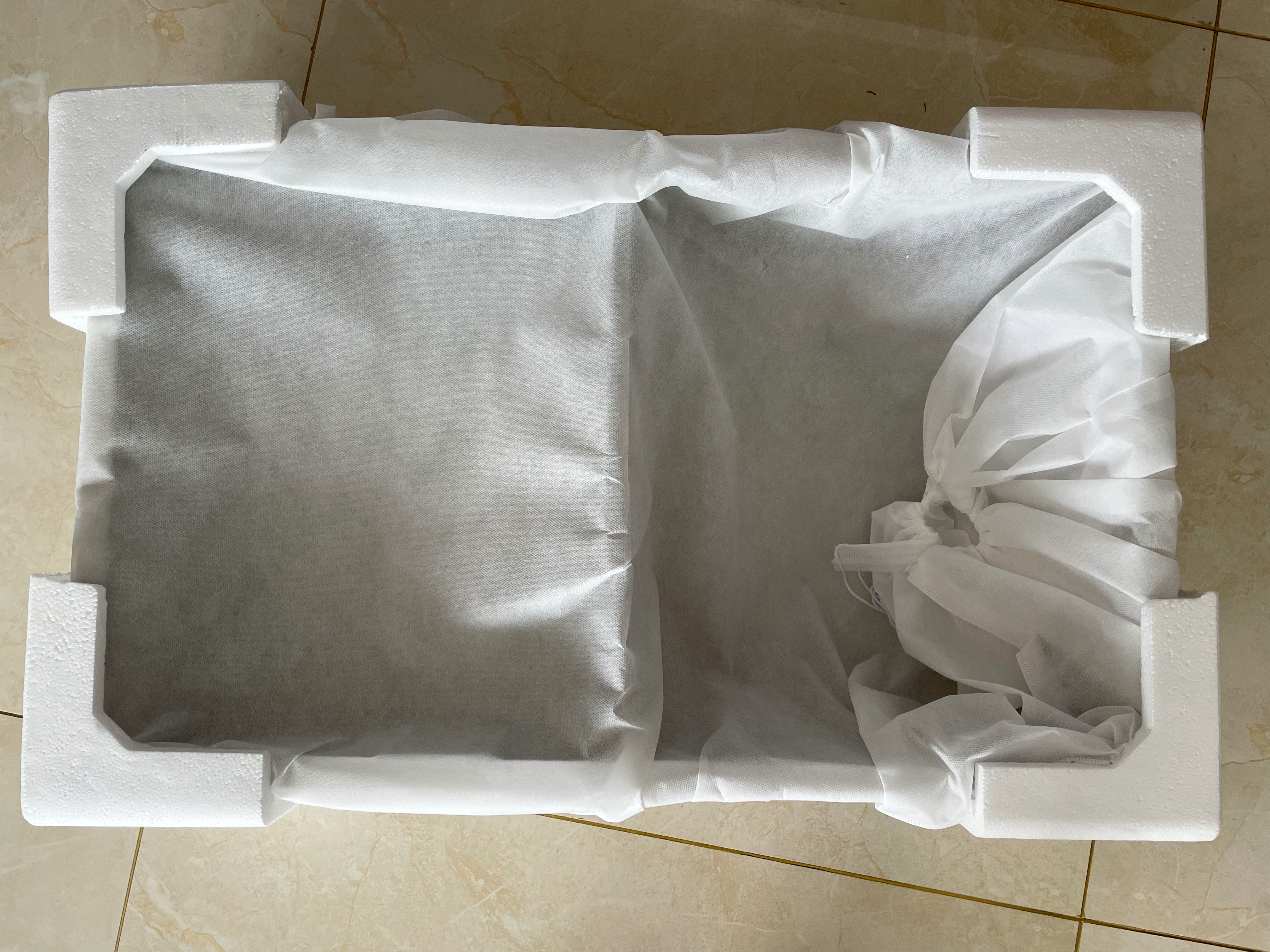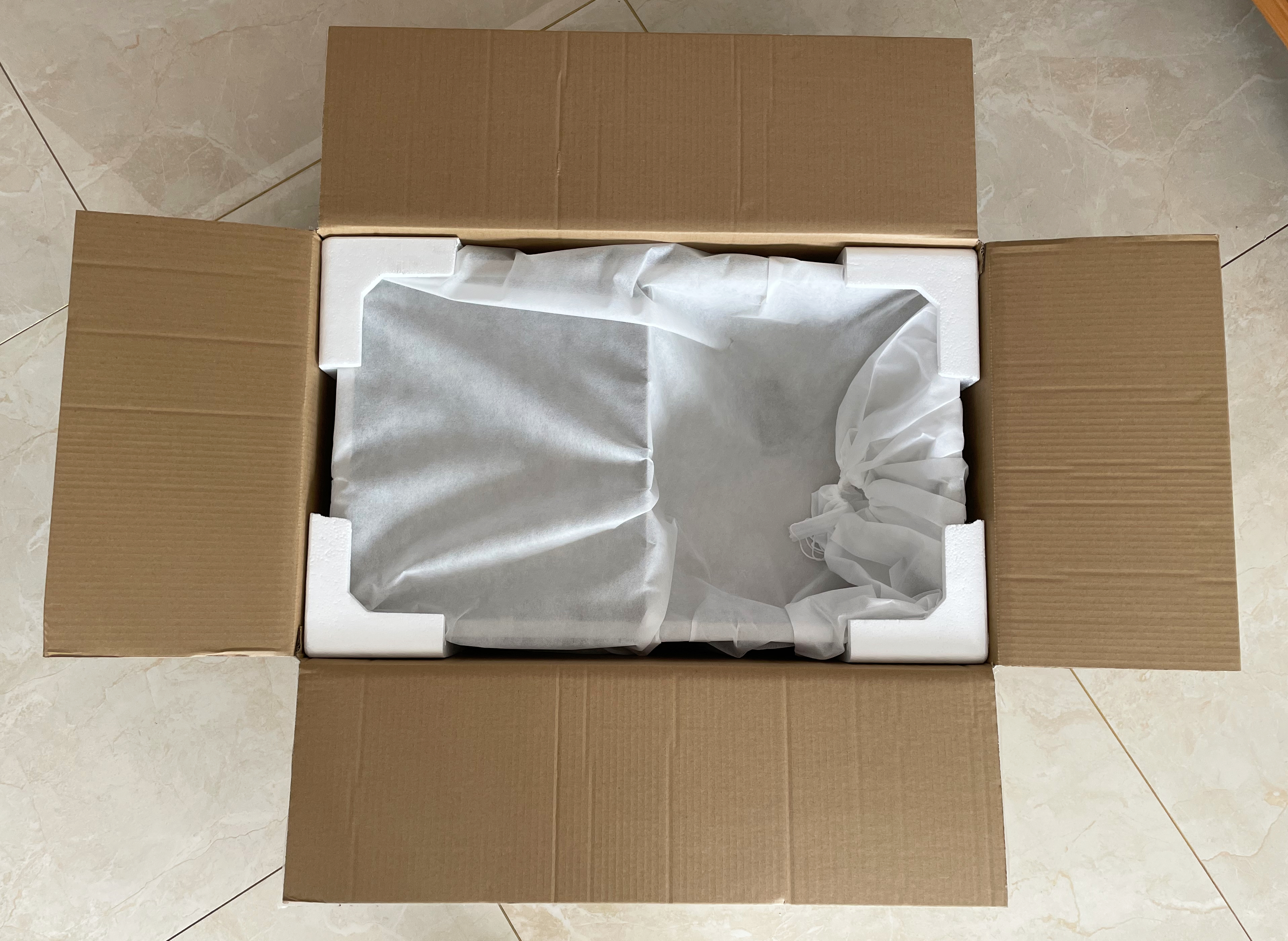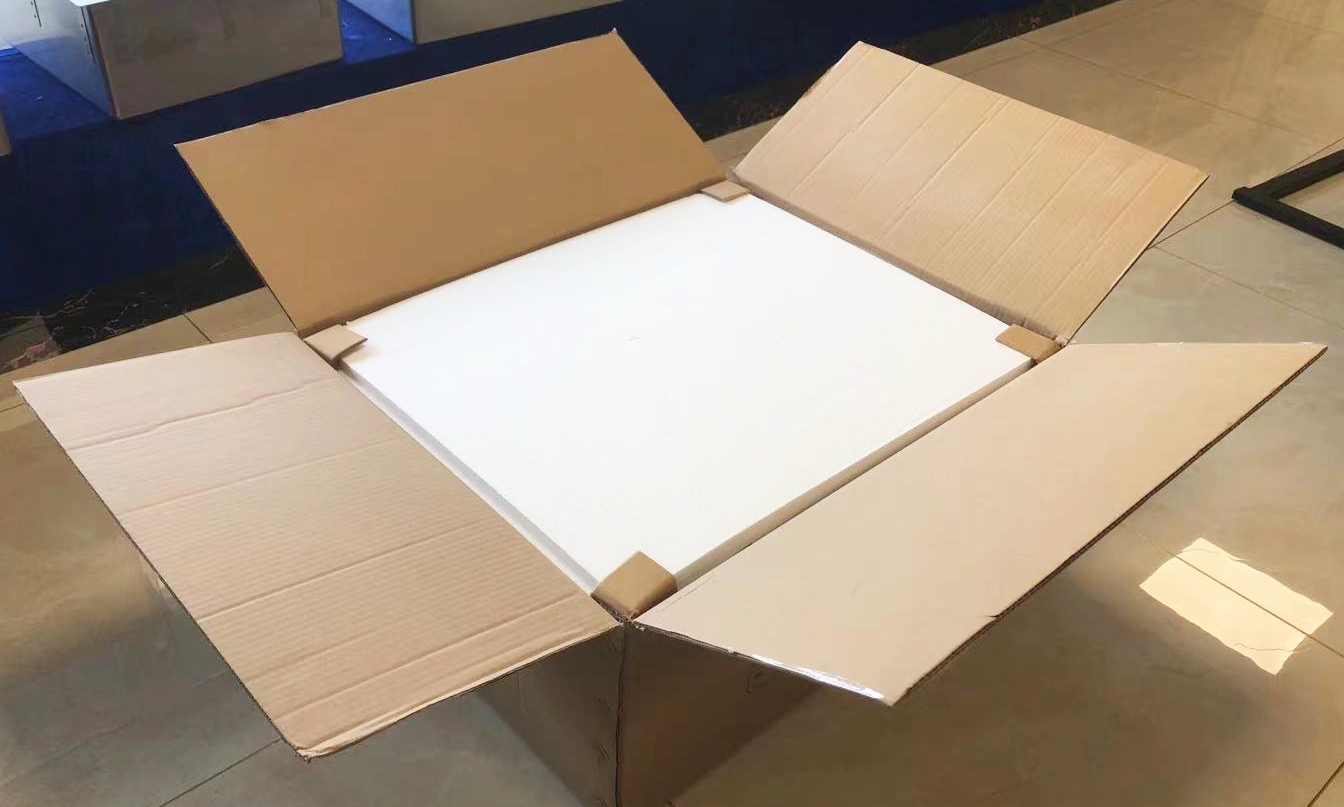 ---
Previous:
New Style Easy Installation Storage Shelf Triple Recessed Stainless Steel Shower Shelf in Wall
---
Write your message here and send it to us