Workstation sink helps your kitchen become Multi-functional! The accessories can slide on the step in the sink that you can do all your prep work right on top of your sink, and keep your counter tops clean and free of mess.
It can be used with a variety of accessories at the same time, including deep stainless steel colander, solid wood cutting board, reel drying rack, stainless steel bottom grid, draining basket, sauce box, even glass rinser and hidden cover.
Another design of the workstation is an additional support ledge, add two crossbars on the edge of the sink. Without sacrificing any space of your hand-made sink, it is more durable and stronger.
At this time, your sink is not only for cleaning, but also a bar counter where you can enjoy cooking with family and friends.
Different ledge workstation types meet your every equirement!
Additional Support Ledge Series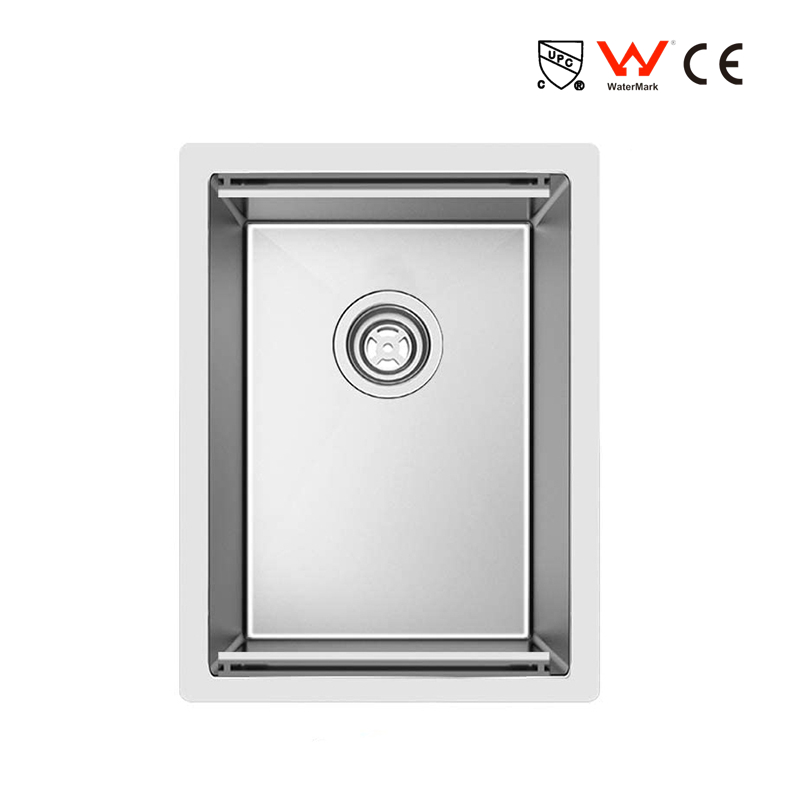 Hot Sale Stainless Steel 304 Ledge Workstaion Sink for Bar or Kitchen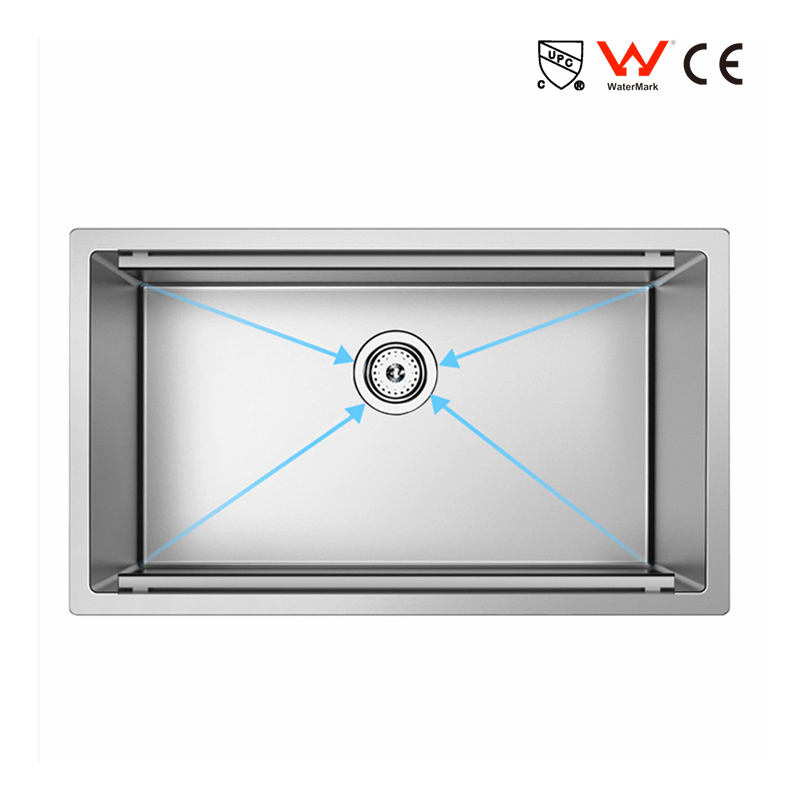 New Design Additional Support Ledge 32-inch Workstation Undermount Kitchen Sink at Competitive Price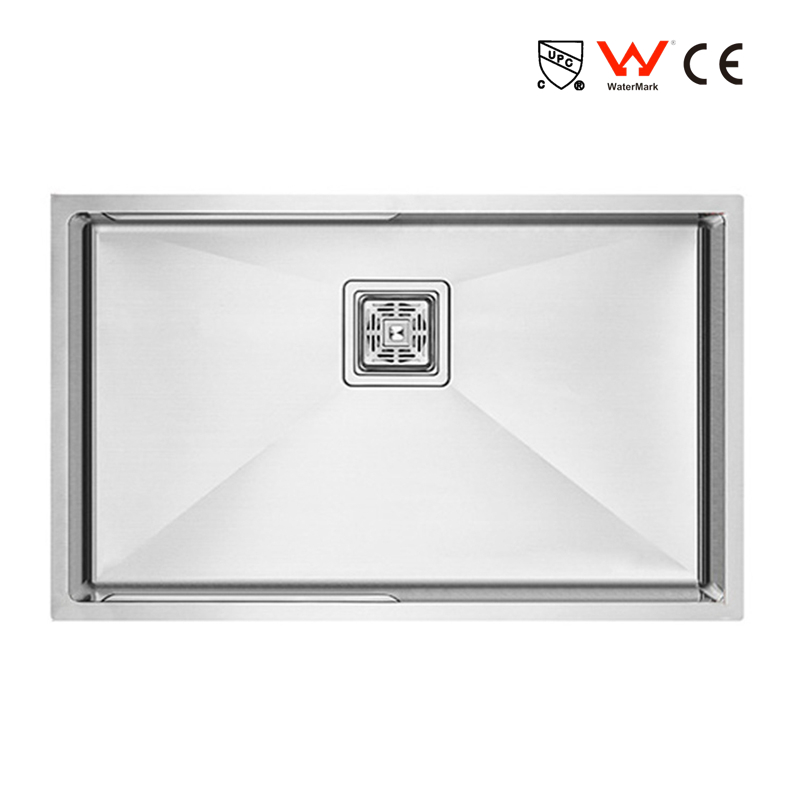 Popular Handmade Stainless Steel Workstation Sink with Square Strainer
Two types additional workstation for your reference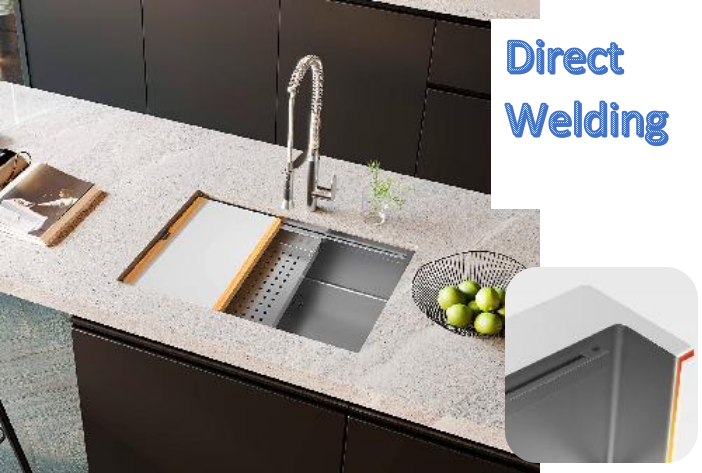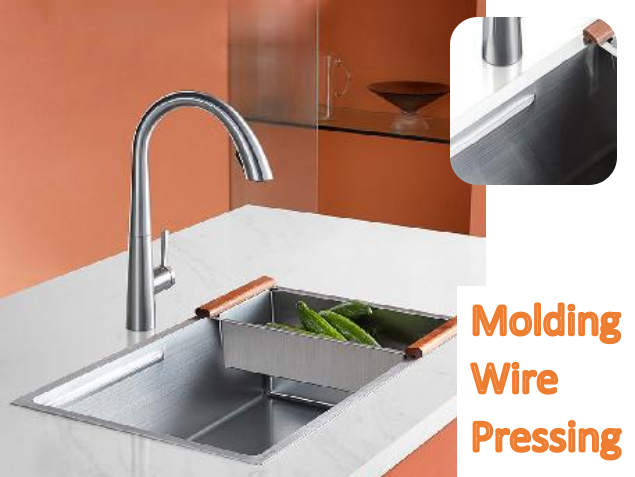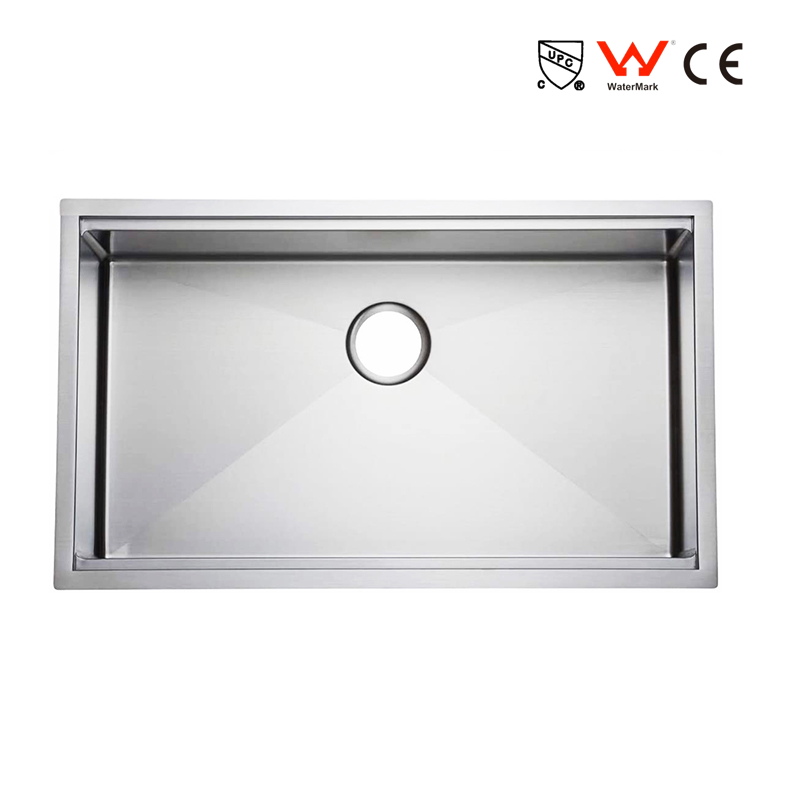 Amozon Hot Sale Handmade Stainless Steel Undermount Workstation Sink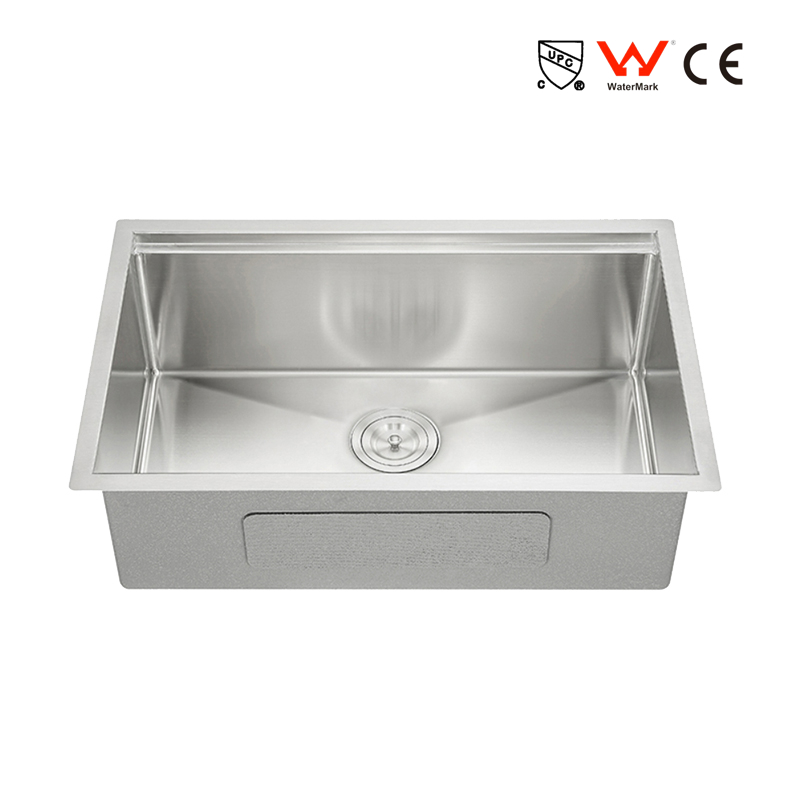 Best Quality 30 Inch 16 Gauge cUPC Single Bowl Workstation Sink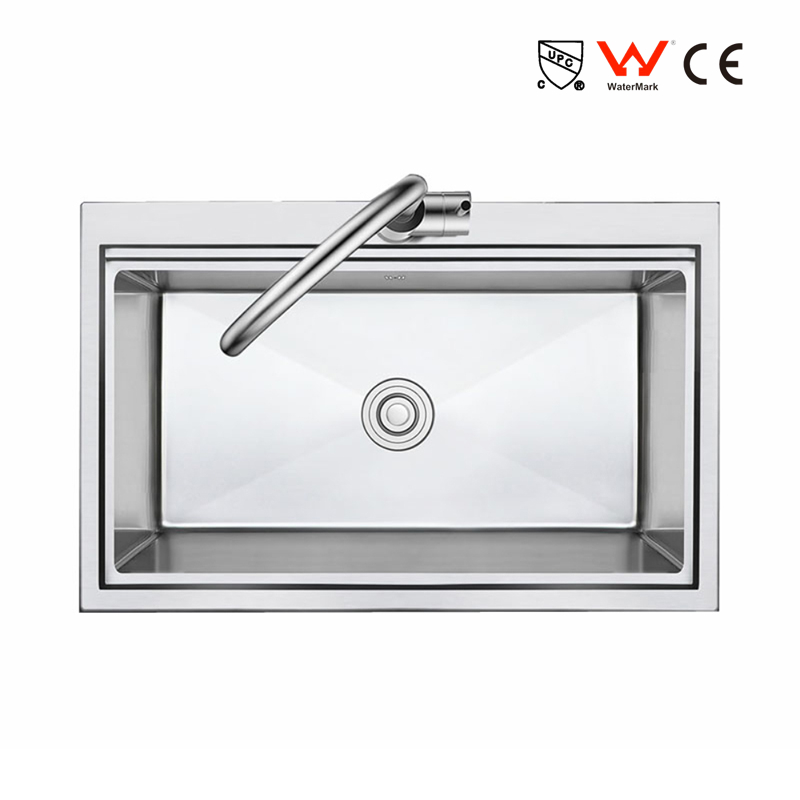 Best Selling Stainless Steel 304 Workstaion  Undermount Stainless Steel Kitchen Sink with Faucet Hole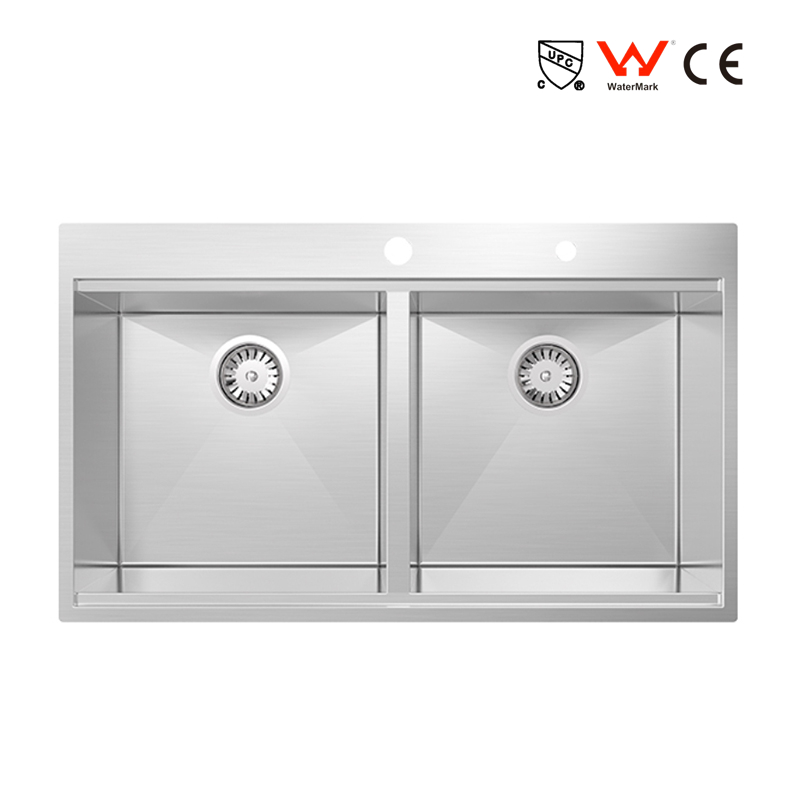 Chinese Handmade R0 Workstation Ledge Kitchen Double Bowls Sink Supplier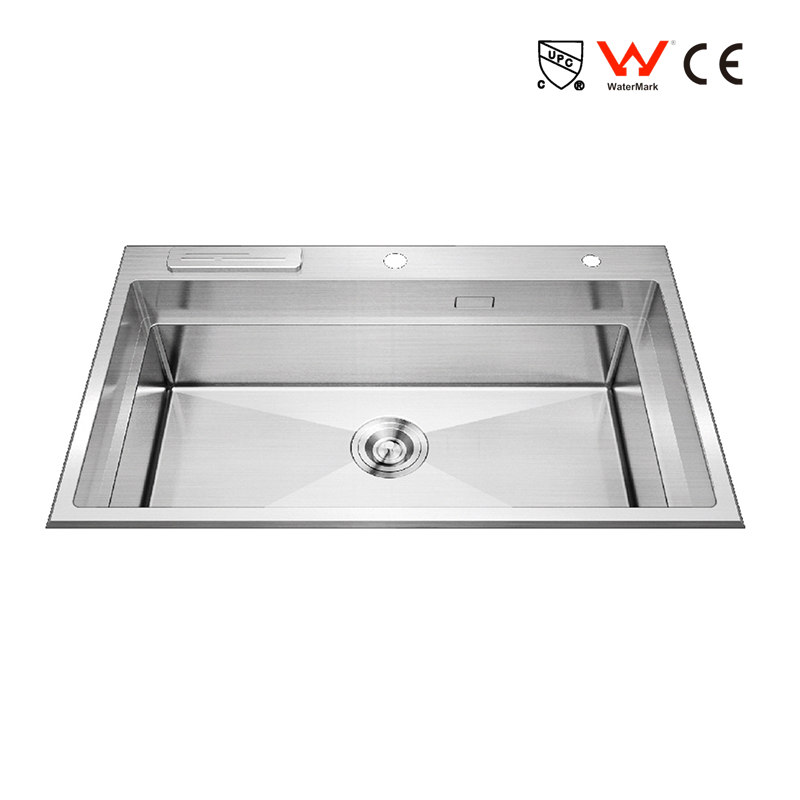 Customizable Deep Step Undermount Workstation Stainless Steel Sink with Knife Hole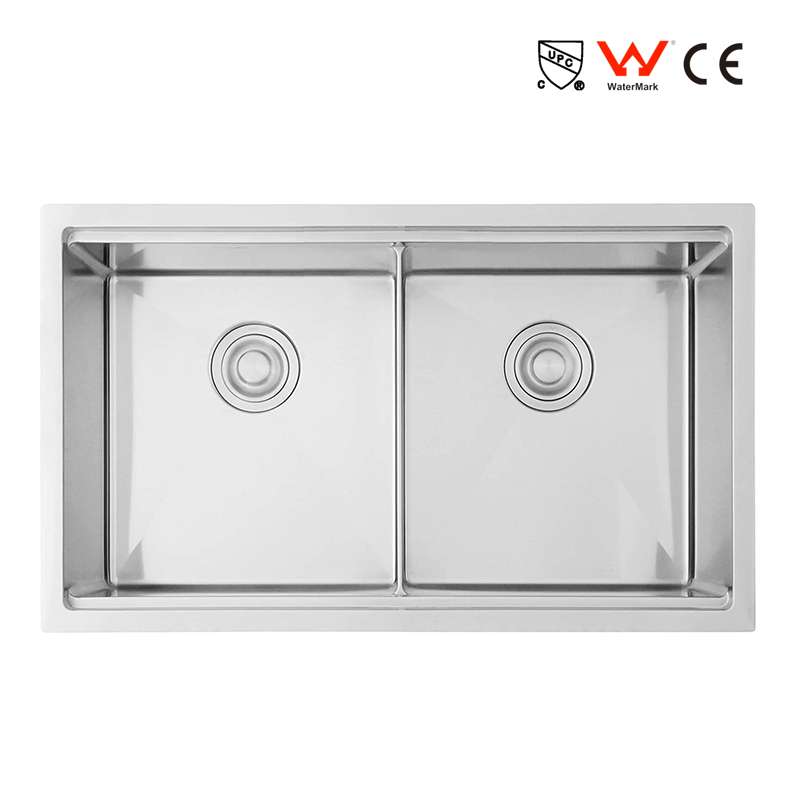 Double Bowls Stainless Steel Handmade Workstation Kitchen Sink with Slim Bridge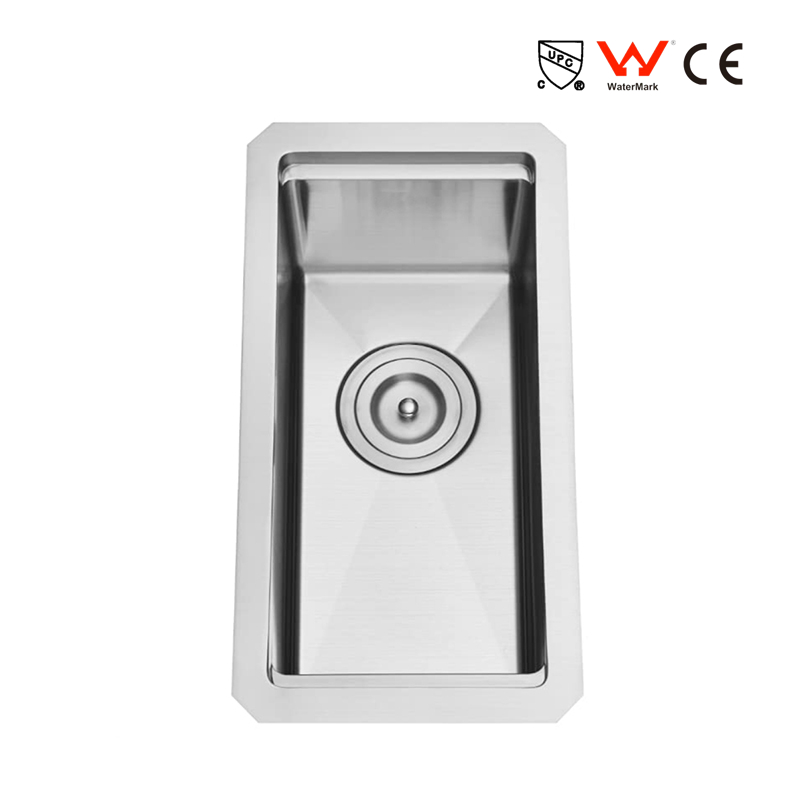 CE Approved Stainless Steel 304 Single Bowl Workstaion Bar Sink
Amazon Best Quality Tap Landing Single Bowl Undermount Kitchen Sink with Roll up Rack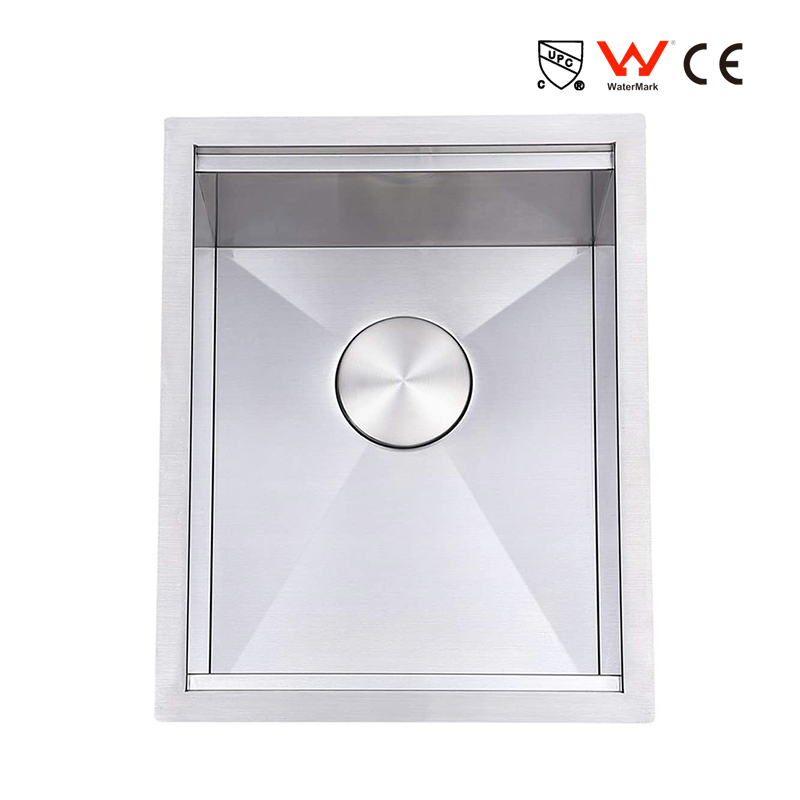 Handmade Stainless Steel R0 Workstation Bar Sink with Cover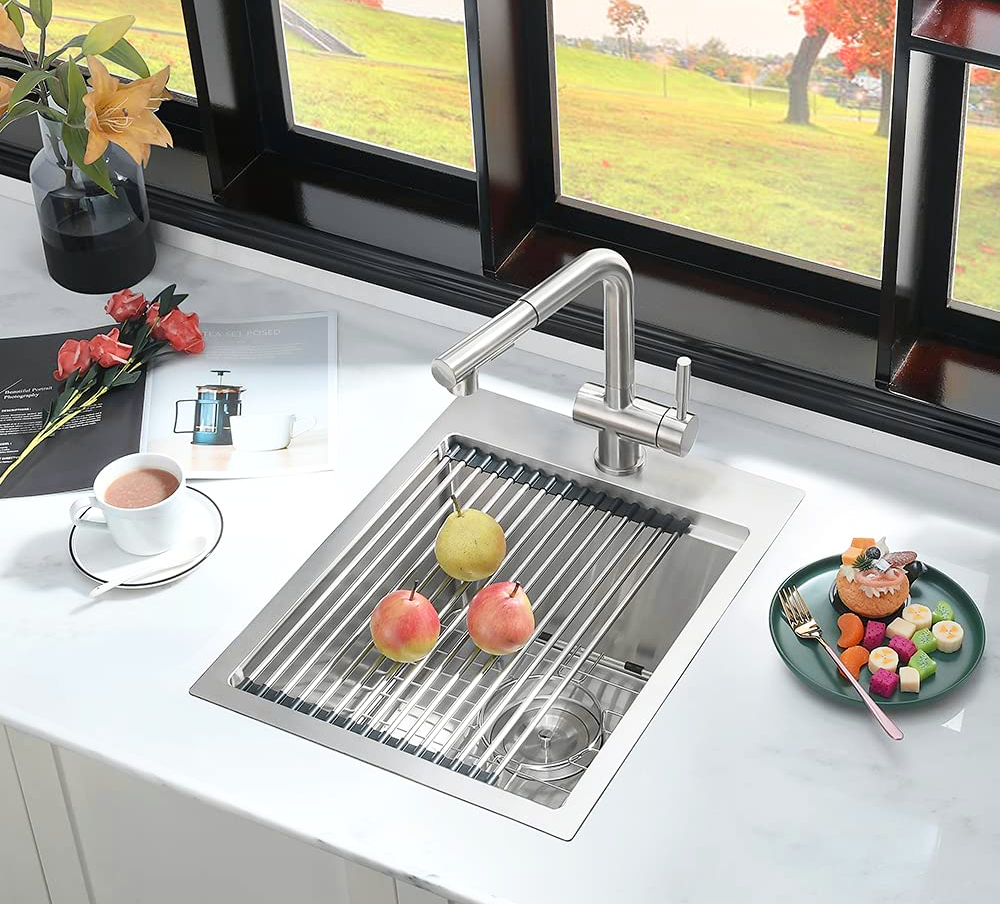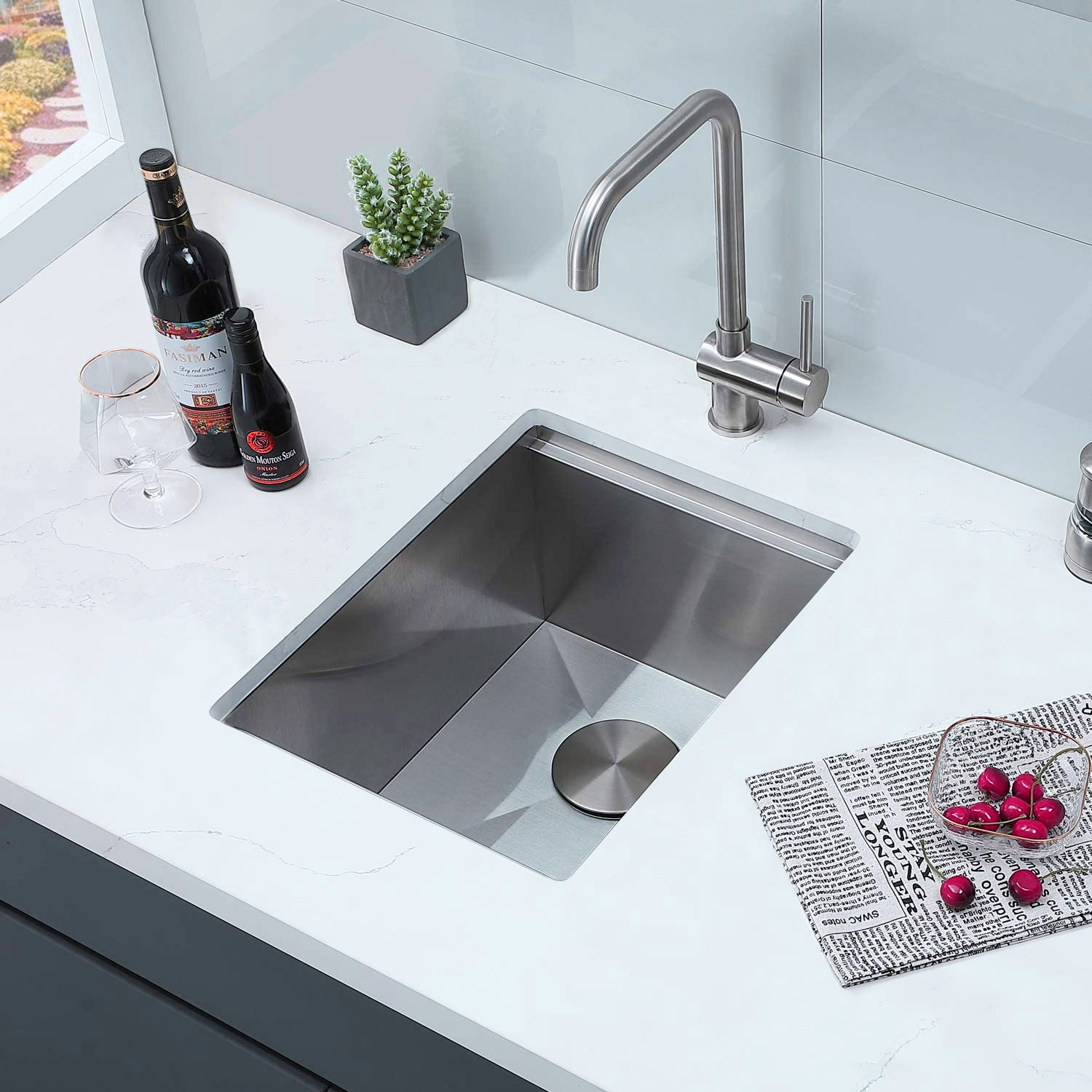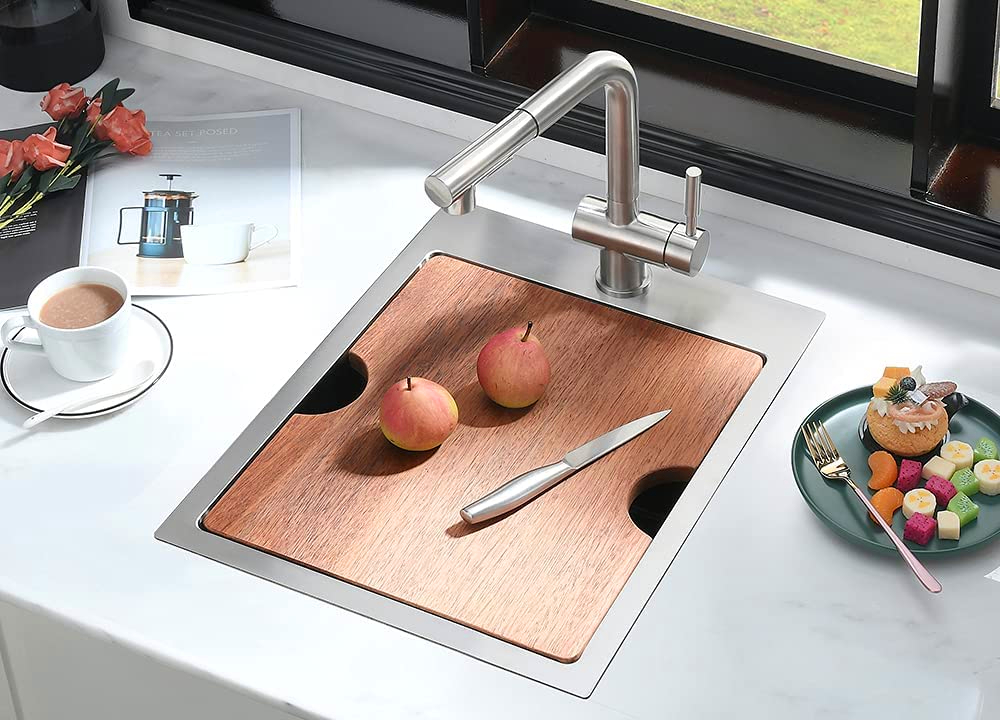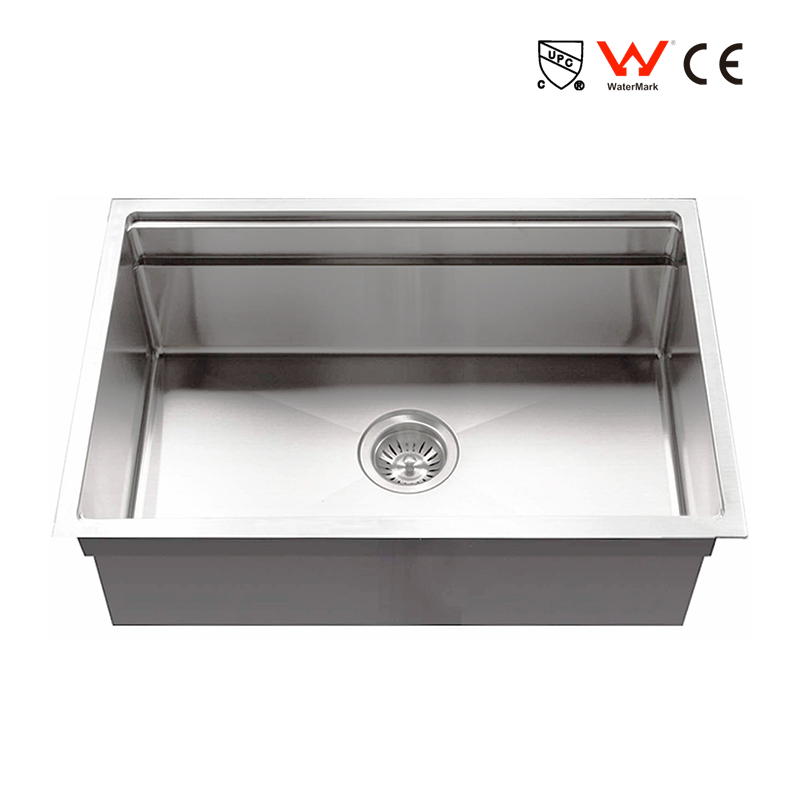 30-Inch Handmade Stainless Steel 304 Workstation Sink with Two Ledges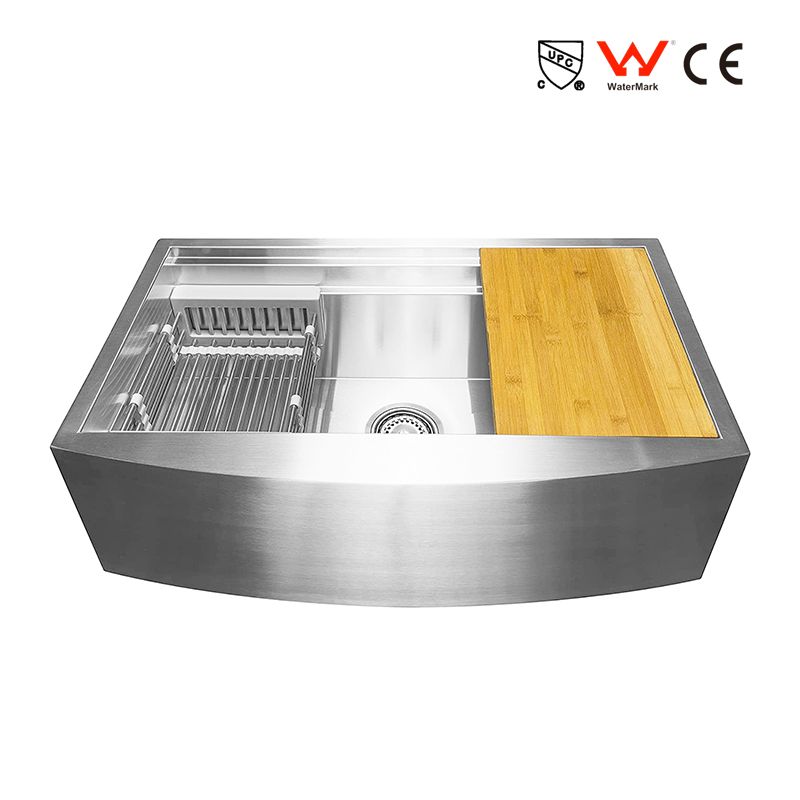 33-Inch Handmade SUS304 Workstation Ledge Farmhouse Apron Front Sink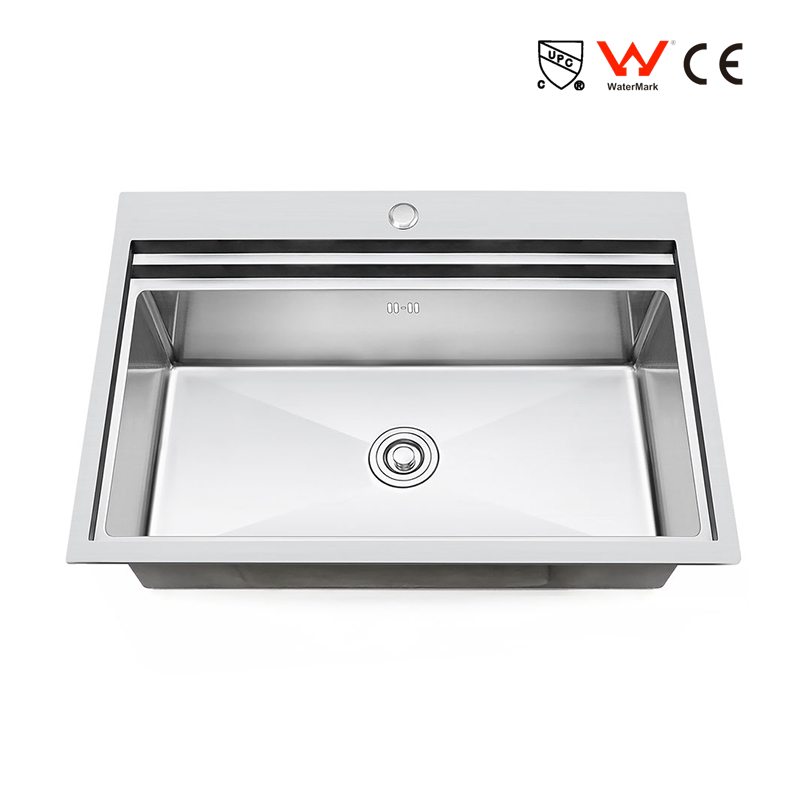 CE approved Stainless Steel Workstation Kitchen Sink with Faucet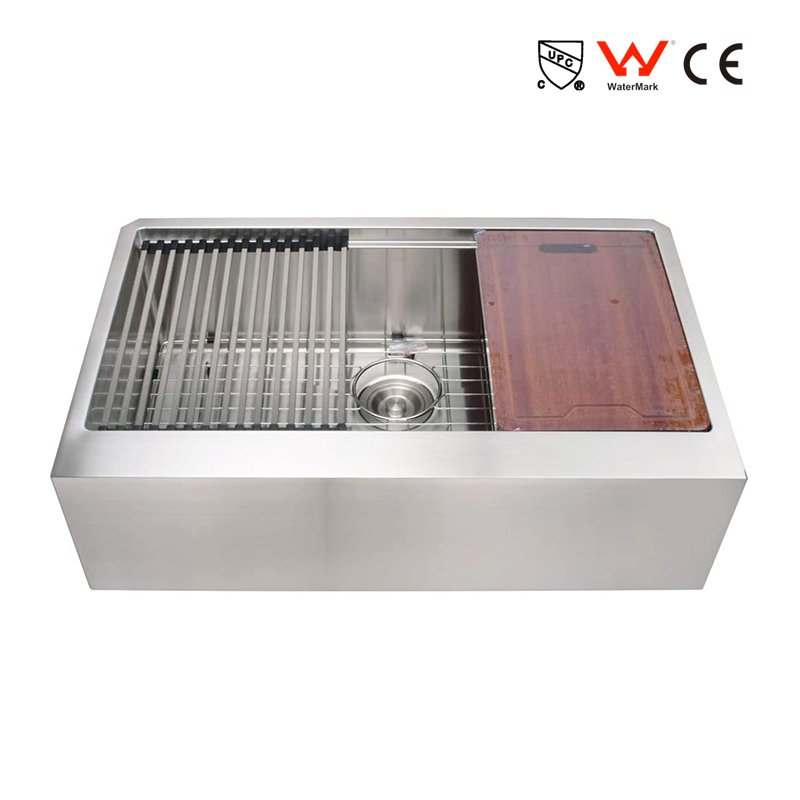 Chinese Handmade 16 Gauge Stainless Steel Farmhouse Apron Front Workstation Kitchen Sink Supplier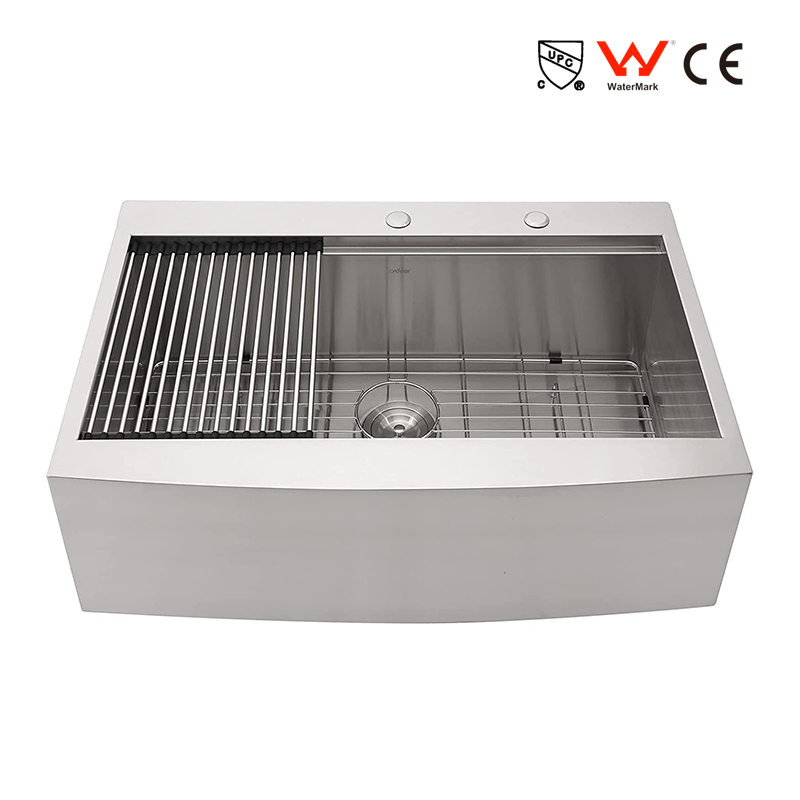 Hot Sale Stainless Steel Apron Front Farm Sink Workstation Ledge Single Bowl Kitchen with Faucet Hole
 33 Inch 304 Stainless Steel Farmhouse Single Bowl Workstation Kitchen Sink
Happy Hour(Large Capacity) Series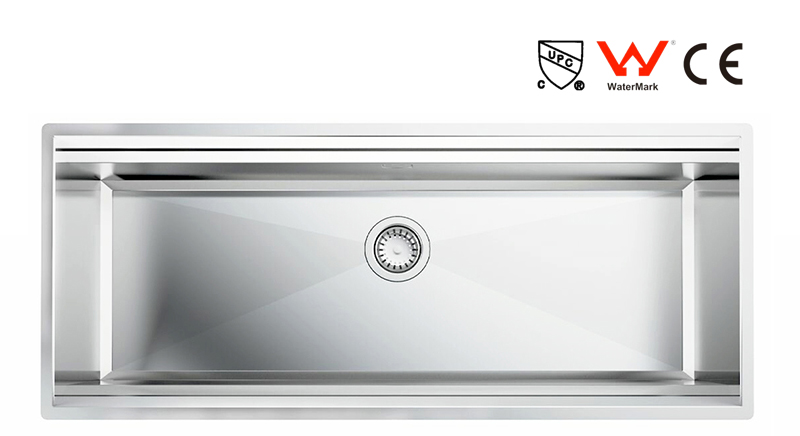 Modern Design 45-Inch Stainless Steel Large Workstaion Sink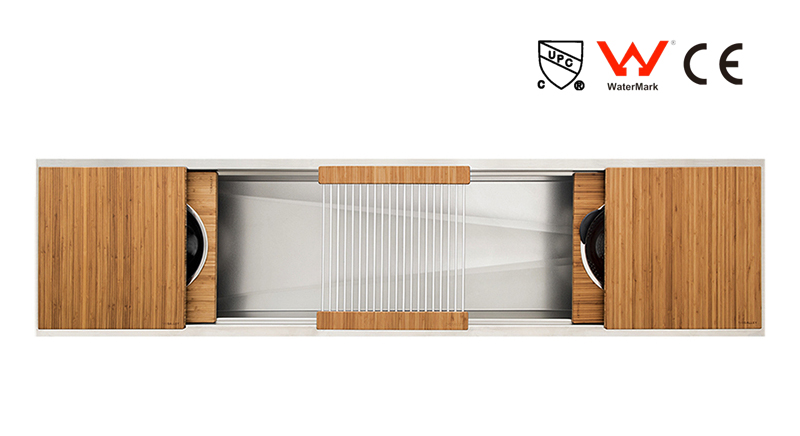 High Quality Galley Workstation Ledge Sink with Cutting Boards and Draining Rack For Cooking Bar

Handmade Stainless Steel 304 Bridgeless Galley Ledge Undermount Workstation Sink
Refer accessories for galley sink' s best partner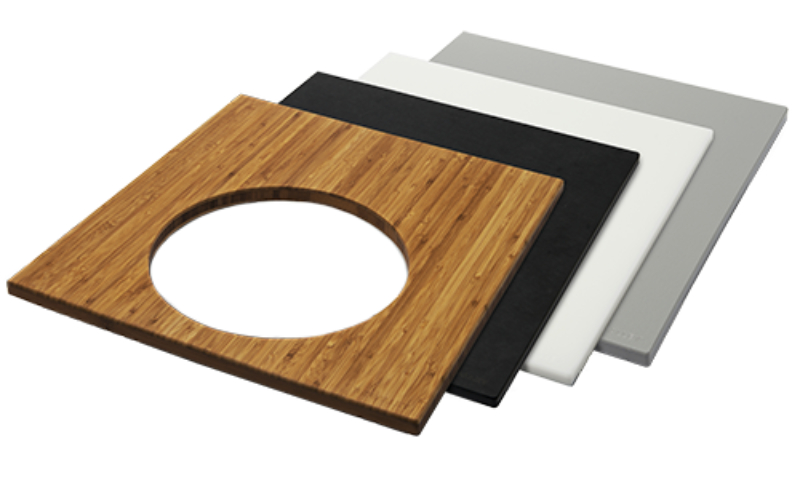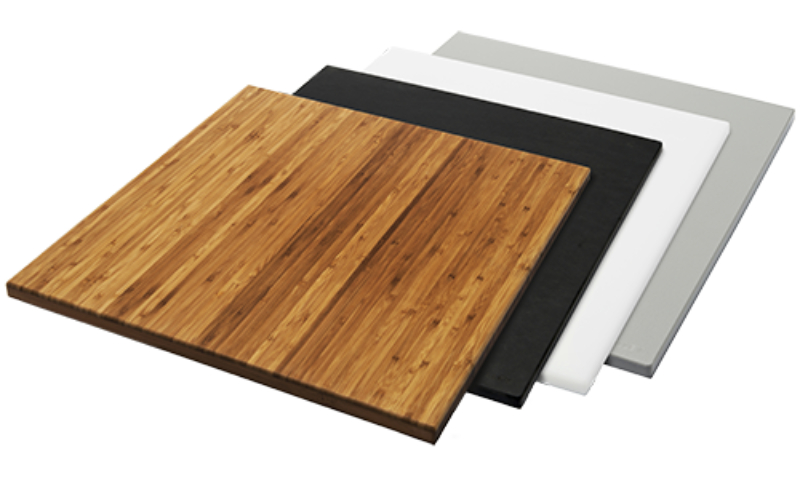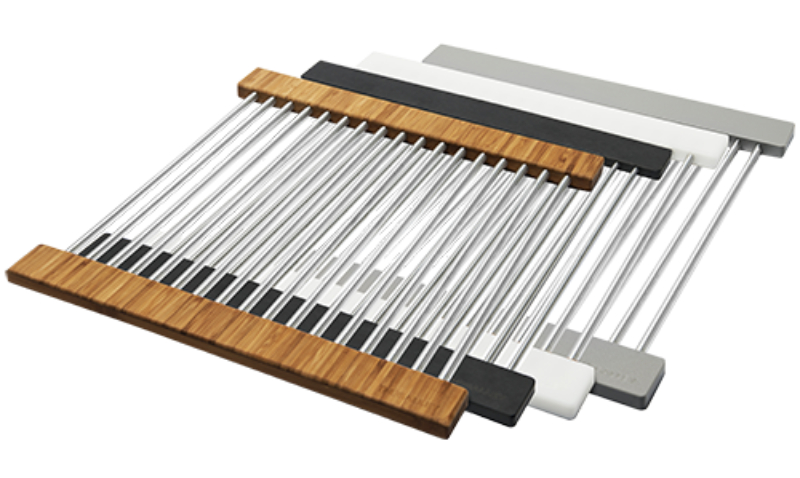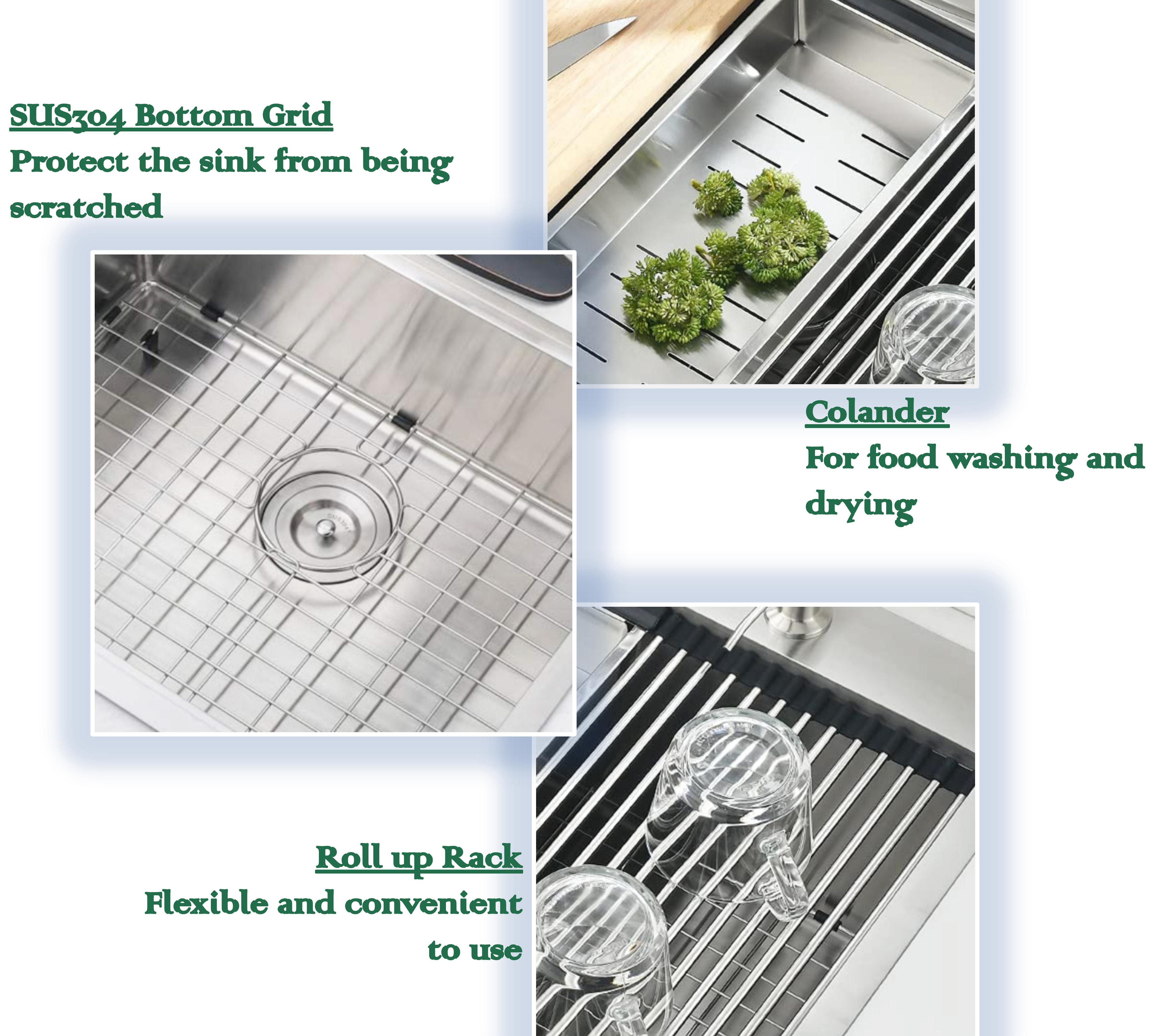 Have you ever thought that a simple sink could turn into a one-stop galley workstation bar? Come with various accessories such as cutting board, sauce box and drain basket ect. You can prepare food, enjoy delicious and do the washing on it with any mess. Choose our workstation sink and enjoy your happy party with your family and friends!
Avaliable size below, Sink size can be customized according to the actual needs and preferences of customers
Photo

Model Number

Overall Dimension(mm)

Bowl Size( mm)

Type

 

WS-1018-S

10" ×18"×8"

8" ×16"×8"

Single Bowl

WS-1520-S

15" ×20"×10"

13" ×18"×10"

WS-2120-S

21" ×20"×10"

19" ×18"×10"

WS-2520-S

25" ×20"×10"

23" ×18"×10"

WS-2822-S

28" ×22"×10"

26" ×20"×10"

WS-3022-S

30" ×22"×10"

28" ×20"×10"

WS-3319-S

33" ×19"×10"

31" ×17"×10"

WS-4220-S

42" ×20"×10"

40" ×18"×10"

WS-4520-S

45" ×20"×10"

43" ×18"×10"

WS-4822-S

48" ×22"×10"

46" ×20"×10"

WS-5222-S

52" ×22"×10"

50" ×20"×10"

WS-5622-S

56" ×22"×10"

54" ×20"×10"

WS-7222-S

72" ×22"×10"

70" ×20"×10"

WS-3222-50/50

32" ×22"×10"

50/50, 60/40, 70/30

Double Bowls

WS-3319-60/40

33" ×19"×10"

WS-3319-50/50

33" ×19"×10"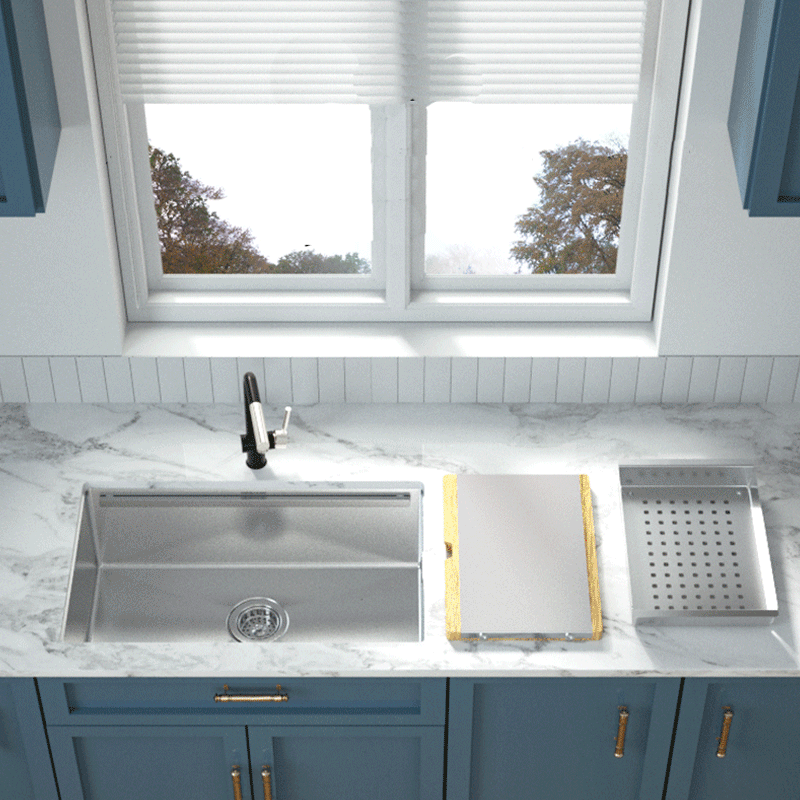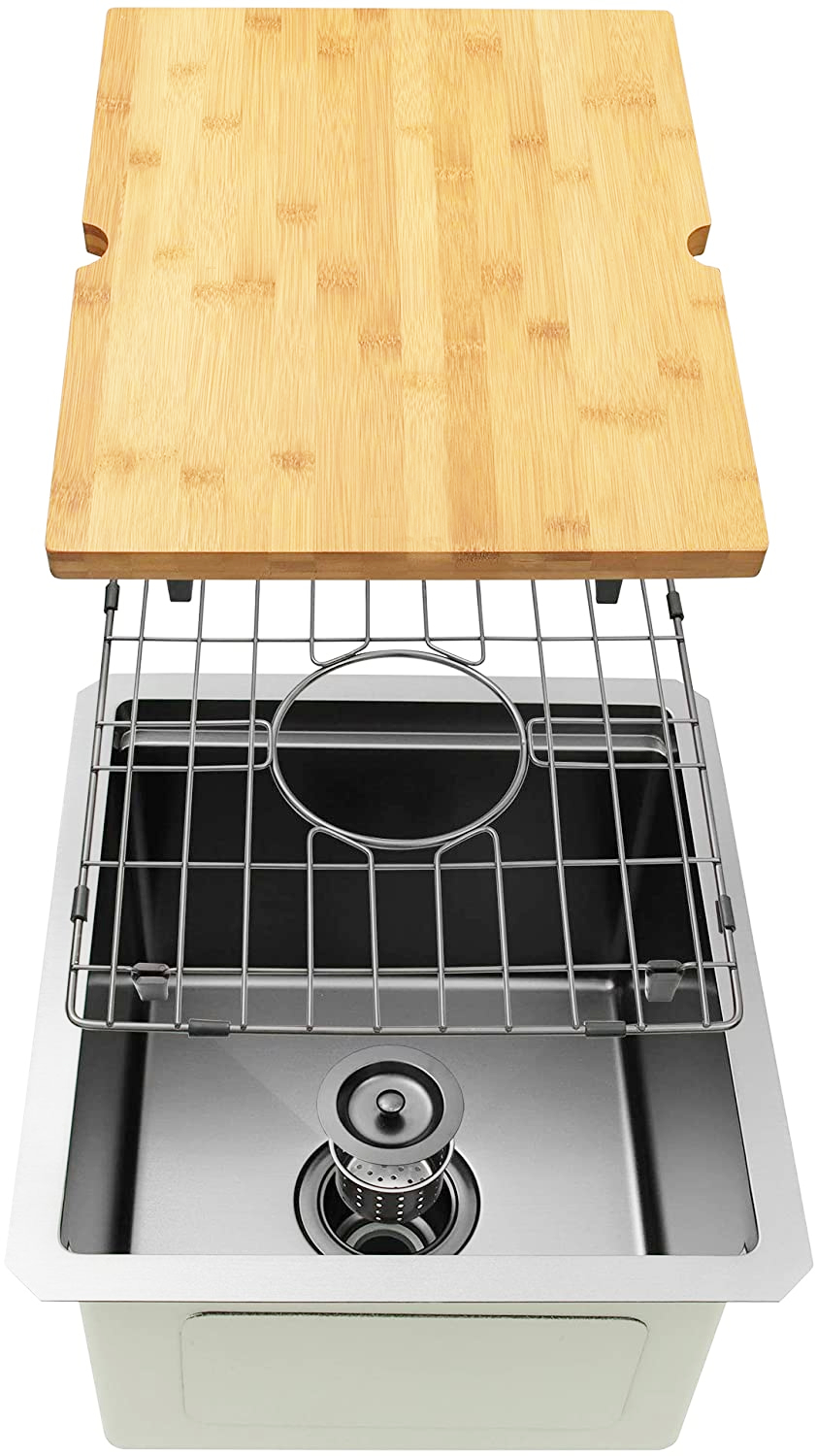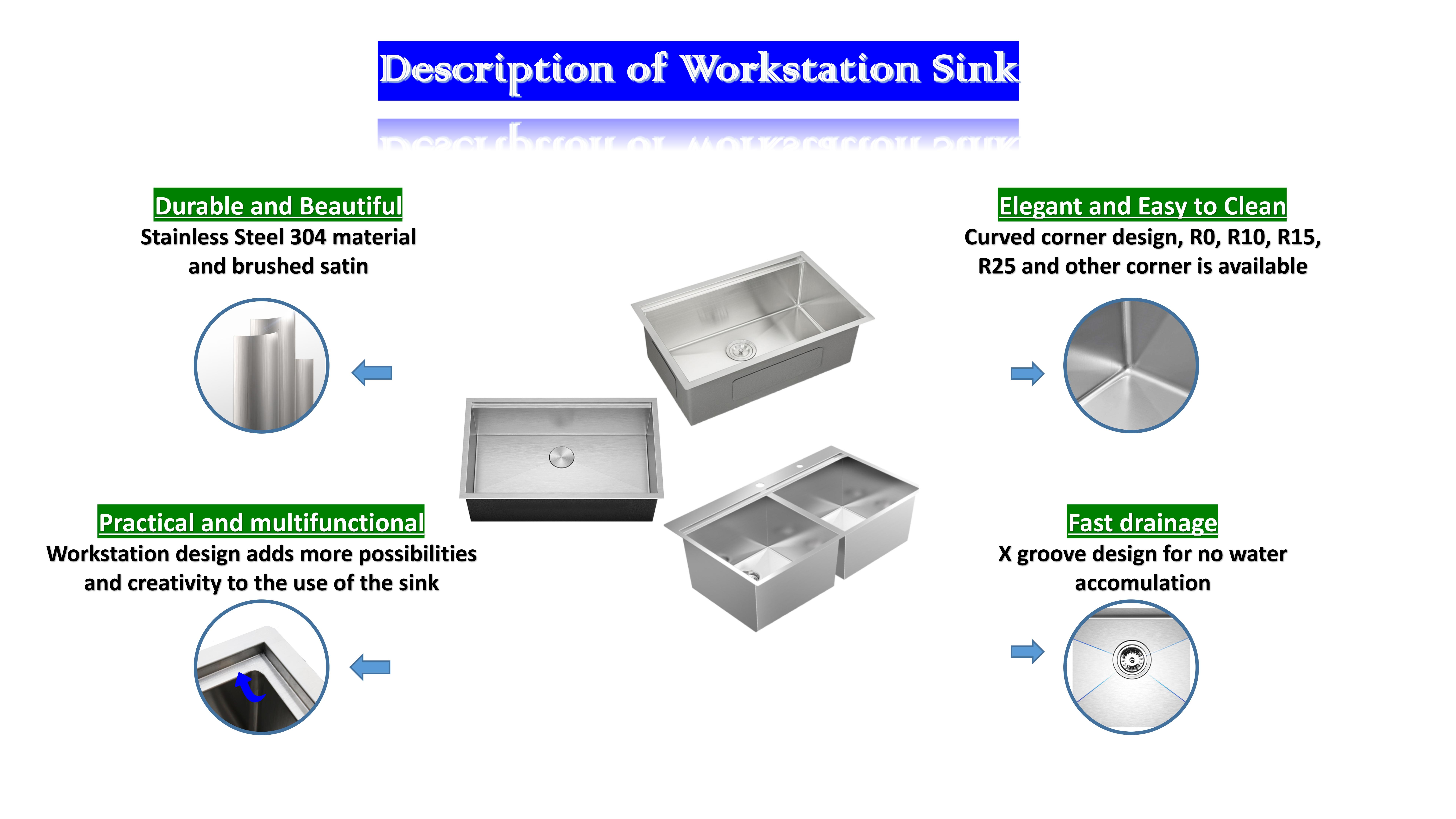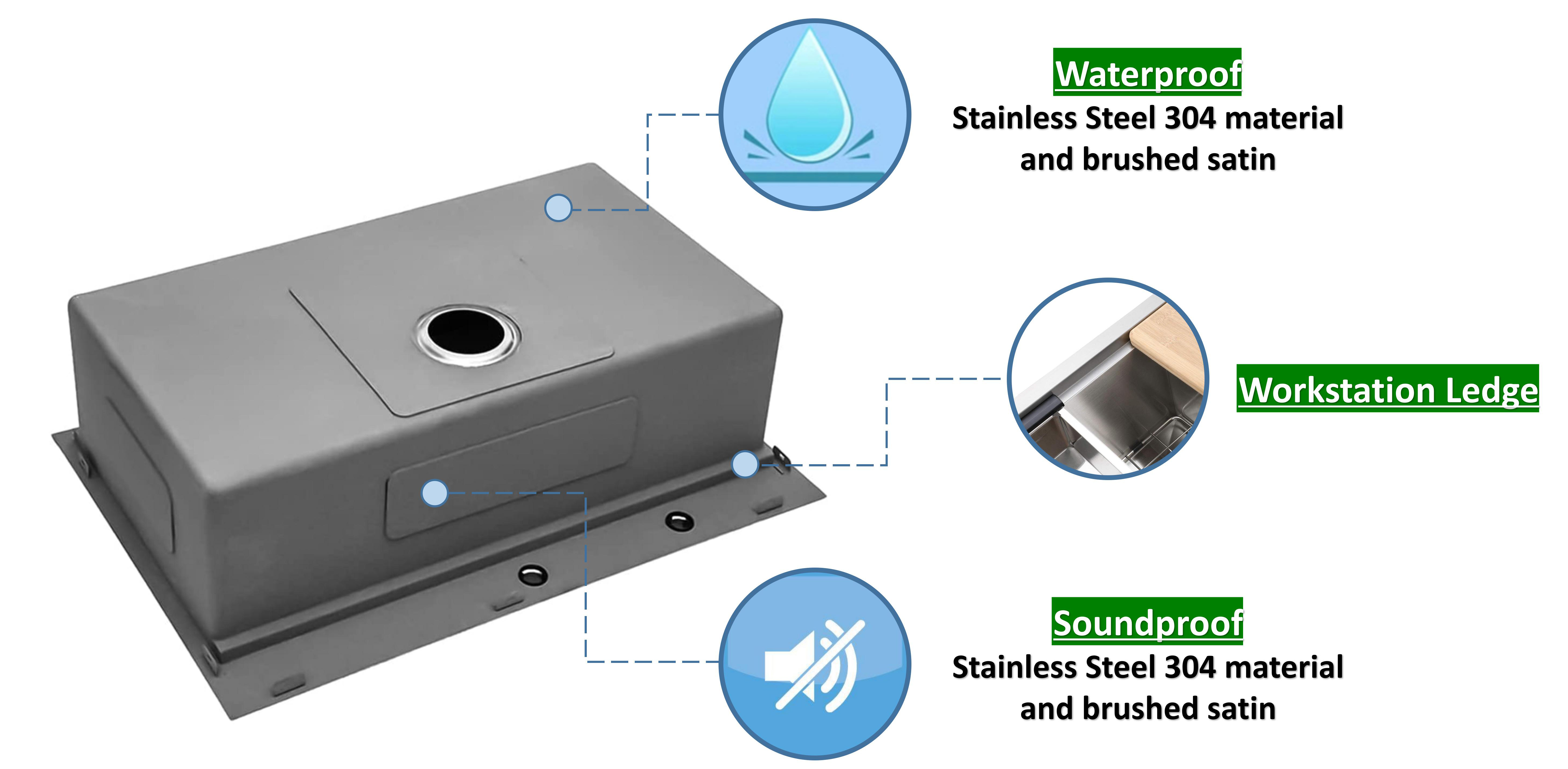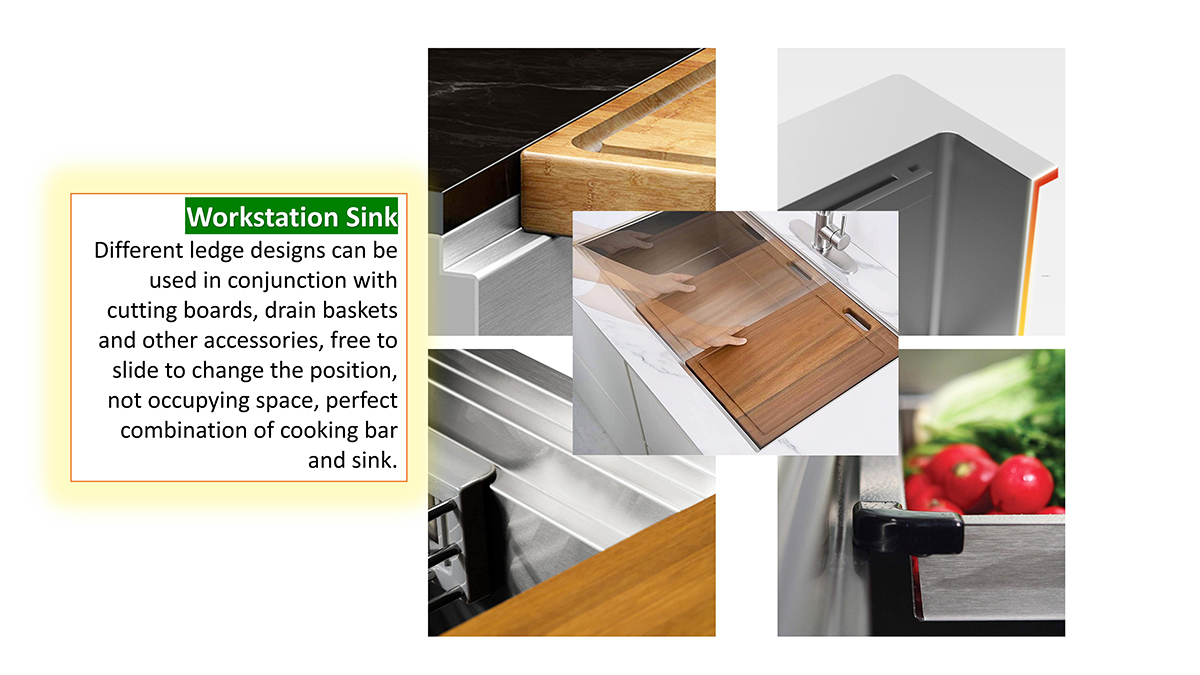 Inner Radius:

Radius (R10), Radius (R15), Outside Radius can be customized made

Material:

Hign End Stainless steel 304 and 316.

Thickness:

1.0mm , 1.2mm , 1.5mm , or Gauge 16, Gauge 18, Gauge 20 or 3  flange with 1  bowl, customizable is available

Finish:

Brushed

Installation Type:

Topmount, Undermount , Flushmount 

Installation kit:

3.5-inch drain opening,  compatible with most garbage disposals available in the market, Mounting clips in different Variety for selection

Plumbing kit:

90  waste outlet for a basket strainer waste, Overflow kits optional

Acessories:

Draining pipe,Soap Dispenser, Bottom Grid,Strainer,Colander,Roller Matt,chopping board

Cutout Template:

Included.

Shape:

Rectangular, Square.

Coating:

Grey undercoating of condensation,to prevent water remain on the back side of the sink

Pads:

Extra-thick slience rubber pads to absorb noise when the sink in use with running water

Applicational use:

Household, hotel, restaurant, hospital, laboratory, Industrial site

Packaging:

1.Strong Protective carton and cardboard insert,Individually boxed.

2. Saving Cost: Stacked pack into pallet

3. Combo 3-5pcs into the individual carton

4. Customized packing as per client's request

Certificate:

cUPC, CE, WaterMark

Trade Terms:

FOB,EXW

Production Lead time:

30 to 45 days upon receipt of deposit

Loading Port:

ShenZhen,GuangZhou,China

Payment Terms:

T/T, L/C, Paypal,Western Union, MoneyGram

Production Capacity:

30,000 pcs per month.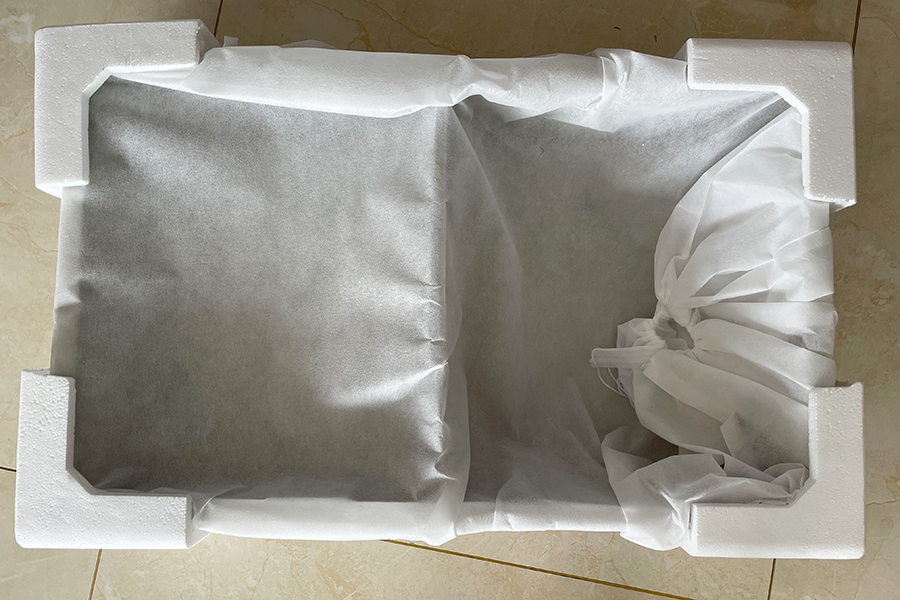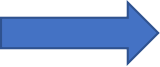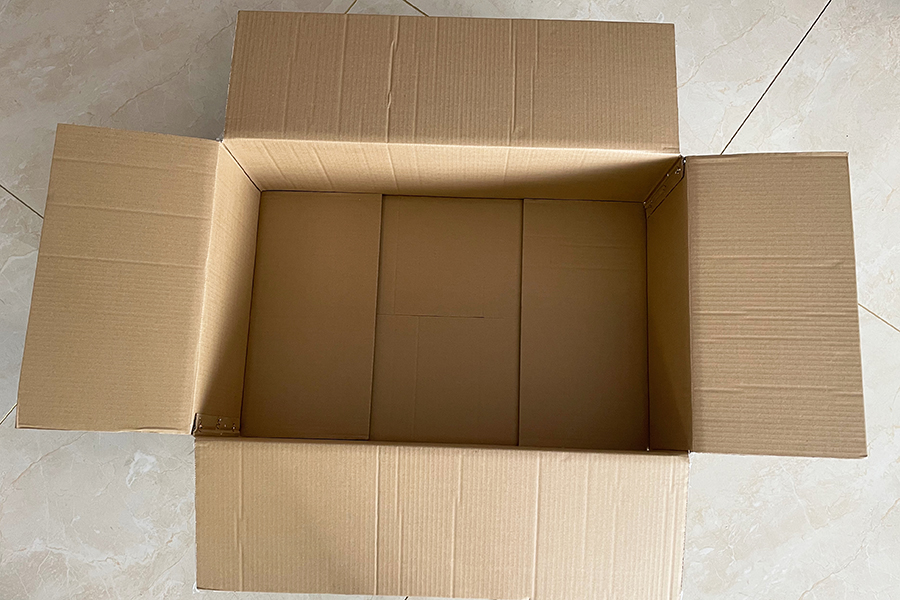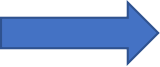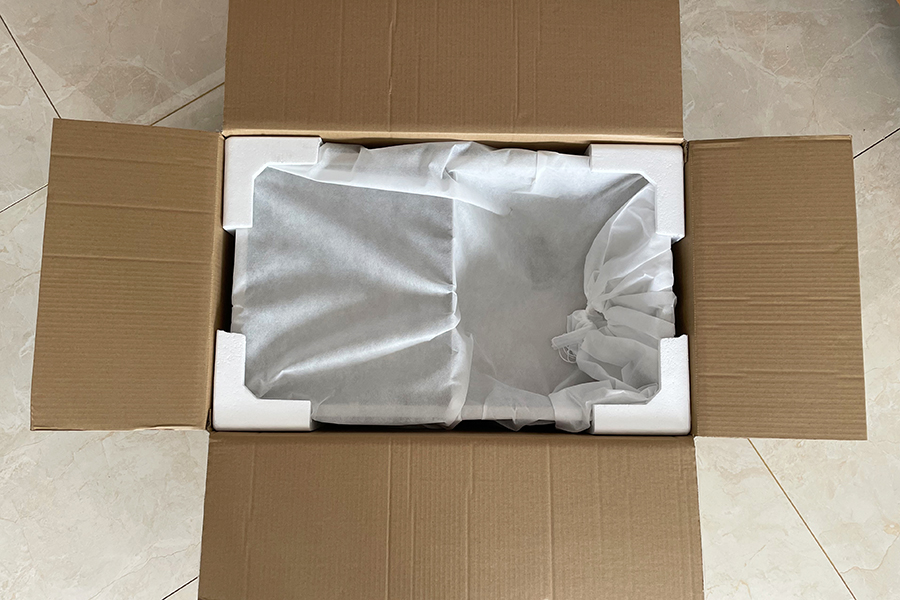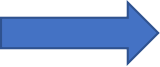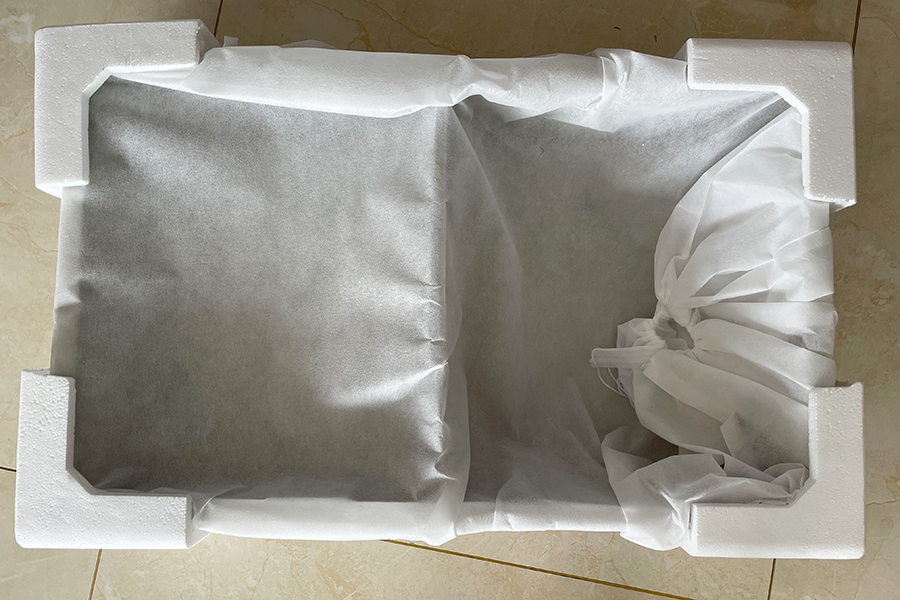 ---
---
Write your message here and send it to us